Search
Property detail & price proposal
Reserve
Thank you
UJEZD - 2 BR 10min from Charles Bridge and across the river from National Theatre
2 Bedrooms for 4 guests (max. 7) • Ujezd 5, Prague
Contact the manager
Call Vladka
US 302-261-5207
or fill our mini-form
Video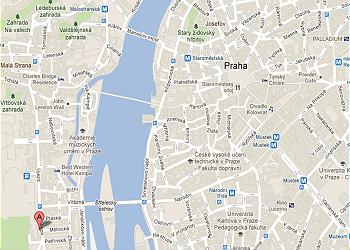 Charming apartment in a great location in Prague's Mala Strana! This location is popular with photographers, as well as filmmakers. The apartment is furnished in an "old way" according to the house built in the nineteenth century. Cheerful colors, combining shades of pink with bright red and chocolate brown tones give it charm and a sense of coziness. Both of the main rooms, which can be either used as an office or a room to sleep, are both pleasant and very comfortable. However, their arrangement and atmosphere will rather tempt you to enjoy a coffee, or a dessert instead. Meals can be prepared in the kitchen, which despite its size provides everything you need for cooking and baking. The apartment is made for relaxation, but do not forget that you are merely 10 minutes away from Charles Bridge! There is a tram stop, right in front of the house, which can take you to other interesting and historic places of Prague. Újezd is equipped with a work desk and access to Wi-Fi. And as all our other apartments, this apartment is non-smoking, but there is an option of smoking on the balcony. Also, we provide locks code giving you free access the apartment without keys! The apartment building is located under the Petrin hill, near the river in the area called Mala Strana. It was built in 1895 by a well-known architect, who built it for himself, explaining its good qualities. Petrin is undoubtedly the best place for those who like visiting tourist attractions as well as having a taste of nature at the same time. Just behind the building is the historical Hunger Wall, which has served to defend Prague. In 1361, the year of drought and poor harvests, the prices of bread increased severely, which left many people without enough food. In order to feed their families, the locals resorted to frequent theft, augmenting the criminal activity. King Charles IV therefore called upon the locals to build a protective wall from Petrin to the Vltava River. The construction took two years and fed many families, resolving the problem. The Prague people named the wall "The Hunger Wall", because its battlements resembled the teeth of the starving folks building it. At the end of the street is Kinsky Square, known especially for the T34 tank, which commemorated the liberation of Prague by the Soviets in 1944. After the Velvet Revolution in 1989 an artist David Cerny painted it pink. Actually, it was not so much of a political gesture as an attempt to capture the attention of some girl. Later a fountain was built in the original location where the tank stood, but there still a little pink part of it on the square which constantly reminds us of our history. The apartment is also near the French Quarter, only a 5 minute walk from the French Lycée. For those who plan to stay in Prague for a bit longer, will appreciate the proximity to a nearby shopping center called Novy Smíchov, which is only 2 tram stops away. The tram stop (tram line 6, 9, 12, 20, 22) is right in front of the building as well as a bus stop, line 176
Address

Ujezd 5,

Parking

Not included but a few minutes by walking from the property click for parking advice

Floor

2

Elevator

No
Bathroom

1

Surface

60 m2

Sleeping arrangements

2 Single bed(s), 1 Sleeper, 1 Other bed- see Floor Plan for details, 1 Double/Full Bed
recommended by
Michelin Tour Guide 2010
Michelin: Properties all in Prague 1... high quality service ... very attractive prices
Prague Guide
Prague Guide
Reviews for this property
Bel appartement, bien situé

Nathalie S. from Juigne sur Loire France, 13. October 2013

Stayed for 6 days in September, 2013

Ujezd est un appartement ancien avec parquet et haut plafond, il a beaucoup de charme. On n'entend pas les voisins et pour l'extérieur seul le tramway se fait entendre. Sa situation est idéal pour visiter Prague, à 20 mn du pont Charles et au pied de la colline de Petrin. Le tramway est au pied de l'appartement et dans l'appartement on trouve des indications pour nous aider comme prendre des tickets ou acheter des timbres. Nous avons pris l'option chauffeur de l'aéroport jusqu'à l'appart, ce qui est une très bonne solution, pas de perte de temps. Nous gardons un très bon souvenir de notre séjour à Prague.

Super location, super service !

Jean-claude A. from Grenoble France, 07. October 2013

Stayed for 7 days in September, 2013

Nous conseillons cette location à la fois abordable, confortable, et "habitée" au sens où tout y est : de toute la vaisselle aux parapluies....
Nous avons avons adoré notre séjour et le recommandons avec chaleur.

Good place to stay.

---- Russian Federation, 24. September 2013

Stayed for 6 days in September, 2013

We appreciated this appartment first of all because of Petrin park located just behind the building. Ideal place to walk with children as we did. Living at walking distance from Charls Bridge you don't have overcrowded street under your windows all night.

Very nice apartment

Valentin R. from Toulouse France, 15. September 2013

Stayed for 4 days in September, 2013

The apartment was really nice, perfect service, really well placed.

Je ne comprends pas cette question Merci

Nadine F. from THURINS France, 31. August 2013

Stayed for 4 days in August, 2013

OK

Zlata Praha

Todor I. from Oakville United States, 06. August 2013

Stayed for 3 days in July, 2013

We hed exellent time in Prague. Thanks RENTeGo!

Perfect large apartment for Prague!

Deborah M. from United States, 02. July 2013

Stayed for 3 days in June, 2013

The apartment was wonderful for being as old as it was. 3 of us stayed and it was extra large for us. Everything worked great and the location was excellent. Quiet, grocery store across the street, plenty of restaurants, and the tram system was a breeze. I would stay here again. My favorite part = NO KEYS!!!!!!! Only keycodes for all the doors. Simple to keep up with in your cell phone.

Ujezd 5

Warszawa Poland, 28. May 2013

Stayed for 4 days in May, 2013

Super location ! Nice flat ! Very bright !!! (Even too much for the morning)

???????? ???????????

Stanislav D. from Ekaterinburg Russia, 06. May 2013

Stayed for 1 days in April, 2013

????? ?????? ????????????? ???????????. ?????????? ???? ??? ???????????: ????????? ?????????? ? ????, ??????? ??????????? ???????, ????????? ??????? ? ??????????, ?????????? ??? ??? ????????. ????????? ?????? ???? ?? ??????? ? ?????????? ??????? ??????? ????????? ????????. ????????? ???????????? ???????? ??? ?????, ???? ????????? ???? ???????? ??????. ??? ????? ? ????????, ??????? ????????? ????? ? ?????????, ? ????? ??????, ???, ???? ? ?.?. ????? ???????? ?????? ??????. ??????????!

formidable

chichoux j. from st etienne de montluc France, 02. May 2013

Stayed for 4 days in April, 2013

personnel trés serviable;rapport qualité/prix top
docs sur place peu être un peu maigre sur la ville (ex: pas de plan des transports en commun)

Praha

Sanja D. from United States, 02. May 2013

Stayed for 3 days in April, 2013

Prague is beautiful, we just got unlucky with the weather. Definitely a must see place!!!

Prague

Thomas R. from Linz Austria, 06. November 2012

Stayed for 3 days in November, 2012

Prague is great - the appartment is great situated and we had lot of fun in the city

Poetic Ambience in Old Apartment

Brian S. from Shanghai China, 08. October 2012

Stayed for 4 days in September, 2012

If you seek an antique feel, this Ujezd apartment provides a poetic ambience. It is very spacious for 4 persons though only one private bedroom for a couple. The others sleep in the adjacent spacious living room. The curtains are very transparent so bring eye shades if you prefer to sleep better when the sun comes through. Light sleepers might need some ear plugs at it is quite close to the street. The street is reasonably quiet. This apartment requires more walking as it is only close to the trams but walking to Charles or via Most Legii takes you close to Cafe Louvre and Kavarna Slavia in 10 minutes. No bathtub but reasonable shower and a washing machine is provided. The kitchen is well fitted enough to cook your own meals. Wireless internet is smooth.
It is a walk up apartment so heavy luggage is not recommended unless you are young and strong.

Prague for wedding

Julien E. from United States, 10. September 2012

Stayed for 5 days in September, 2012

Very professionnal, very quick, very clean and well furnitured. No bad surprises, only good ones !

You also have possibilities (if you're lucky cause they are only 10 or 15 places) to park your car just in front of the flat for free and few days...

appartement très bien situé et confortable

Ezio L. from BOLOGNA Italy, 23. August 2012

Stayed for 5 days in July, 2012

Appartement très bien situé: à quelques minutes du centre-ville mais en dehors des rues les plus touristiques, facile d'accès depuis l'autoroute, nombreux commerces dont une excellente boulangerie. Très bien équipé (rien ne manque)et meublé avec des meubles anciens de style tchèque. Bon point: les serrures à code permettant de se promener sans clés. Petit point négatif: les rideaux ne protègent pas bien de la lumière le matin et quelques petits problèmes avec la machine à laver (mais nous n'avons pas eu le temps d'appeler l'agence pour résoudre le problème). Nous avons été très satisfaits de notre séjour.

Prague apartment

---- New Zealand, 14. July 2012

Stayed for 4 days in July, 2012

RenteGo staff were very helpful and professional.the apartment is in a good location and is very secure. Had all we needed except the washing machine didn't seem to spin or clean clothes very well. Otherwise everything was great!

GOOD STAY IN PRAHA

Patrick L. from HAUTOT SUR MER France, 07. May 2012

Stayed for 5 days in April, 2012

The appartment is well located. We spent a good vacation all historical sites can be visit a walk. I never used my car, only to go outside of praha to visit a few castles. We made some diners at the appartment, but the some of lunchs and soupers were taken at the Praha's restaurants. With my family i went to Roma and Venise, all of us said that Praha can be placed in a third position. In a conclusion, go to Praha in April was in excellent idea and a really great pleasure.



Ujezd apartment in Prague

Jonathan W. from Sheffield United Kingdom, 01. April 2012

Stayed for 5 days in March, 2012

Nice quiet apartment with everything you need. Ideal location for walks through the park to the castle or a short walk across the bridge into the old town (avoiding the crowds on Charles Bridge).
Plenty of small supermarkets nearby if you are staying longer.

Très bel appartement en plein centre

Claire L. from France, 26. March 2012

Stayed for 9 days in March, 2012

L'appartement est très vaste, très confortable, et possède un charme unique. On est en plein coeur de Prague,à 5mn du fleuve,et on se "sent" à Prague même si on reste faire la sieste à la maison... Bref, un très agréable séjour, voisinage agréable, immense télé avec chaînes internationales, tout le confort du chez soi et tout l'exotisme de Prague. Le top!

Prague, avant 2012

Henri F. from PARIS France, 23. January 2012

Stayed for 6 days in December, 2011

les lieux sont très agréables,atmosphère et situation, excepté le couchage dans la pièce centrale qui manque sérieusement d'intimité, le prix est assez élevé ...

:-)

Evgeny N. from Moscow Russian Federation, 19. January 2012

Stayed for 3 days in December, 2011

Thank you very much. We liked everything. In the next coming only to you.

septembre a Prague

FORT DE FRANCE Martinique, 13. September 2011

Stayed for 6 days in September, 2011

Helene C. from Paris France, 11. May 2011

Stayed for 4 days in April, 2011

It was great. Great neighbourhood, great staff, great city. Thank you

---- United States, 08. May 2011

Stayed for 4 days in April, 2011

montpellier France, 05. May 2011

Stayed for 6 days in April, 2011
Check in time
Check in after 14h30 (possibility to leave luggage in from 13h15)
Check out time
Check out by 11h30 (possibility to leave luggage in until 12h45)
Easy check in
Code locks or personal welcome allow you to go directly to ...
More info on check-in/out
Amenities
available in all our properties
Various

Bed linen and towels, Radio and CD player, Ironing board, Iron, Hairdryer

Environment

Internet cafe, Grocery open late, Nice café to breakfast outside, …see downloadable neighborhood guide for details
Kitchen

Microwave oven, Fridge, Hotplate, Toaster, Coffee-machine
List of amenities in this specific property
Business

Free Internet access( Wifi/LAN), Poste/ Post office

Entertainment

Satellite Television, Radio, TV, PC
Kitchen

Coffee Maker, Cookware, Full Kitchen, Microwave, Oven, Refrigerator, Stove, Toaster, Utensils, Cafetière / Coffee machine, Four micro-ondes/ Microwave oven, Grille pain/Toaster, Plaques chauffantes / Hotplates, Réfrigérateur / Refrigerator, Four / Oven, Dishwasher

Living

Draps et serviettes / Linen, Lave-linge / Washer, Lave-linge / Washing machine, Linens, Planche à repasser/Ironing Board, Sechoir a linge / Clothes horse, non-smoking, Heating, Hair dryer, Baby cot and baby chair (option), Parking within 5 minutes (option, Totally keyless access
Find properties available for your stay dates:
- Nearby properties you might be interested in.
Downloads
Additional information you might be interested in.
Parking

We recommend you to use a guarded parking because of the high car theft risk - click here.

Transfer

For more info about transfer in Prague click here.