Search
Property detail & price proposal
Reserve
Thank you
ROXY - Cosy studio 4 minutes walk from Old Town Square
Studio for 2 guests (max. 3) • Dlouha 38, Prague
Contact the manager
Call Vladka
US 302-261-5207
or fill our mini-form
Video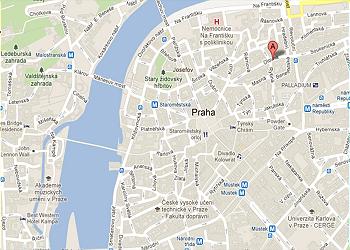 Roxy is a nice cozy apartment, most suitable for a couple. It has a beautiful view over the rooftops of Prague and the Prague Castle in the distance. It has a small kitchen, which includes everything you need (coffee maker, microwave oven, toaster, etc.) to prepare breakfast and simple meals. As all our other apartments, there is a high speed internet connection for those who wish to work or stay in touch with friends and the apartment is non-smoking. To get a better idea of this apartment, scroll down to view the floor plan. The apartment is located on the fifth floor and what it lacks in design it compensates with a great location in the very center of Prague 1.This apartment is especially convenient for visitors who love parties and nightlife, since Dlouha Street is famous for its bars and clubs, including the popular club Roxy. The building is also located only 4 minutes from the Old Town Square, in the heart of the historic center and is close enough for sightseeing by foot as well as visiting all of Prague's interesting spots. Historic records of the street, where our apartment is located date back to the early 14th century. This street originally connected the Old Town Square with Porící and was the longest street in Prague - hence the name "Dlouha", "Long Street". Even though it only measures less than 400 meters, its name has not been changed. Dlouha Street has a lot of preserved historical buildings such as the Golden tree house, which is located just across the street from our apartment. Another house number 5 has captures the attention of visitors because of its interesting and mysterious stories. This house might seem insignificant but it is known as the house "U Smrti", "At Death". As the story says, a young man returned to Prague after being kidnapped as a toddler by a pair of vagabonds many years before. Not knowing his origin, he unknowingly married his own mother and therefore was executed right in front of this building.
Address

Dlouha 38,

Parking

Not included but a few minutes by walking from the property click for parking advice

Floor

5

Elevator

Yes
Bathroom

1

Surface

35 m2

Sleeping arrangements

1 Other bed- see Floor Plan for details, 1 Double/Full Bed
recommended by
Michelin Tour Guide 2010
Michelin: Properties all in Prague 1... high quality service ... very attractive prices
Prague Guide
Prague Guide
Reviews for this property
très bien placé

bruno s. from collias France, 04. November 2013

Stayed for 4 days in October, 2013

RENTeGO est une partenaire fiable

?

Abdelkrim S. from United States, 27. August 2013

Stayed for 5 days in August, 2013

good

A clean place, great located, even if a bit noisy

TOULOUSE France, 06. August 2013

Stayed for 3 days in July, 2013

The apartment itself is clean and well furnished. It is on sixth floor but the elevator works fine. There are blankets for cold nights and a fan for hot ones. The kitchen corner is small but with all basic stuff. The bathroom and the toilets are very clean.
What we enjoyed most: the great location, close to the B-subway and the old town square, we went by foot out every evening.
What could be better: the place is quite noisy if you want to sleep with the window open, because there are plenty of pubs, bars and nightclubs around.

Thanks !

Quentin B. from Godinne Belgium, 02. July 2013

Stayed for 2 days in June, 2013

Really great trip in Prague with your help. Everything was perfect except maybe the noise down in the street during the night. Everything else was great thanks again !

Un séjour parfait !!!

Cyril B. from Chemille France, 17. June 2013

Stayed for 7 days in June, 2013

Nous avons loué l'appartement Roxy. La location correspond parfaitement au descriptif. Très bien située, clean et bien équipée.
L'agence est très PRO, tout est pensé pour passer un séjour agréable sans mauvaises surprises.
L'agence donne aussi beaucoup de bons conseils pour profiter au maximum de Prague.


Rapport qualité/prix exceptionnel

Helene L. from Québec Canada, 13. June 2013

Stayed for 13 days in May, 2013

Si vous cherchez un hôtel de charme, passez votre chemin. L'appart est propre mais les murs ont besoin de peinture, les tablettes sont des planches de contreplaqué, l'immeuble est très quelconque et moins propre que l'appart, et l'ascenseur doit dater d'avant-guerre! Mais l'immeuble et l'appart sont très sécuritaires et on trouve dans la cuisinette un choix d'ustensiles très complet, café, sucre, sel… Tout (fer à repasser, sèche-cheveux, radio) est de qualité minimale mais fonctionne. Salle de bain et toilettes modernes. Connexion wi-fi: j'ai pu converser tous les soirs avec mon conjoint via mon ipad sans problèmes. Le lit est vraiment confortable. Bruit de la rue: fenêtre fermée, c'est calme. Je mets toujours des bouchons de cire et j'ai dormi comme un loir tous les soirs. J'hésiterais à revenir l'été, il doit faire très chaud sous les toits même fenêtre ouverte avec bouchons. RenteGo ont installé un store noir entre les deux fenêtres, je ne l'avais pas vu le premier soir! C'est efficace fenêtre fermée. Les gens de tous âges dans l'immeuble (en 13 jours j'en ai croisé souvent) sont aimables, tranquilles et vous saluent (dobrí den!). Enfin, la localisation est exceptionnelle. Je voulais rentrer à pied à 22h après les concerts du Festival au Rudolfinum et au couvent St-Agnès: mission accomplie. Si je revenais pour 2-3 jrs avec mon conjoint, je choisirais peut-être de payer pour le charme--mais pour un séjour de 13 j seule, le Roxy est imbattable côté prix, le confort très correct même pour mes 64 ans, et je me suis toujours sentie en sécurité.

Dimanche 2 juin vers 7h, en traversant le pont en route pour l'aéroport, j'ai remarqué combien la Vltava avait gonflé depuis la veille. J'ai vu que le si gentil chauffeur de RenteGo regardait le fleuve avec beaucoup d'inquiétude. Depuis mon retour, j'ai passé beaucoup de temps à me faire du soucis pour lui et pour les pauvres Tchèques. Courage à vous tous! À Prague tout est + ou - rentré dans l'ordre mais ailleurs...

escape holiday

Paris France, 26. April 2013

Stayed for 4 days in April, 2013

a very clean appartement in a good place to discover Praha

Home for the Week!

Kami N. from Moraga United States, 08. April 2013

Stayed for 5 days in April, 2013

We were a bit travel-weary by the time we arrived to our little flat -- and it was just what we needed. Fully outfitted, clean, well-located, and run by friendly and responsive professionals. I would highly recommend this flat and this property management company.

oui oui

guy c. from France, 26. March 2013

Stayed for 3 days in March, 2013

super

Nice stay in Prague

Rocio M. from Sevilla Spain, 19. March 2013

Stayed for 4 days in March, 2013

The apartment was very good and the location as perfect, Just in the center, 5 minutes to the town hall. The apartment was nice, very clean and better tan what we expected. We would go back again!

Appartement à Prague

Versailles France, 11. February 2013

Stayed for 6 days in February, 2013

Parfait pour une semaine (6 nuit pour 190euros) en couple. L'appartement est bien sans être luxueux. Bon emplacement. Propre, tout le nécessaire d'un appartement de location. Bien desservie pour l'aéroport (prendre le bus 119 puis le métro A. en 50 minutes). Rien à redire, à par peut être la température excessive du chauffage que l'on ne pouvait régler (petite fuite à ce moment sur le radiateur au niveau du robinet).

Prague is a beautiful city

Jean-Luc M. from Divonne-les-Bains France, 06. January 2013

Stayed for 4 days in December, 2012

I use the services of Rent & Go for more than 10 years.
The service has always been impeccable

a

ALEXANDER K. from MOSKVA Russian Federation, 08. December 2012

Stayed for 5 days in December, 2012

??? ??????, ??????, ?????? ?? ?????.

Rien à ajouter, la prestation globale est de qualité

jean_jacques C. from Saumur France, 17. October 2012

Stayed for 7 days in September, 2012

la société a-t-elle d'autres appartements en location dans d'autres villes européennes (pologne,hongrie,italie,croatie....)
Bonne réception

Response from RENTeGO

18. October 2012

Bonjour, pour l instant nous y sommes pas, mais rien est impossible :-)!

Almost *perfect*

Mario M. from Paris France, 11. October 2012

Stayed for 3 days in October, 2012

The stay at Roxy was almost perfect, except for two glitches:
1) the wireless router should be changed. The internet was pretty fast when I connected my laptop to the wire, but it was painfully slow when on wireless mode. So you should change the router.
2) The street was a little noisy at night even with the windows closed, but I guess there isn't much you can do about that :)
Otherwise, it was a truly perfect place.

Response from RENTeGO

12. October 2012

HI Mario, thanks for the comments, we will check the router as soon as the apartment will be available again. The noise , sadly, is the price to pay for being in the very city center and you are right.. not much we can do about it :-)!We are happy you enjoyed your stay ! Best regards Vladka Navel

the best way to discover Praha

juliette l. from Saint\\x2DNazaire France, 26. September 2012

Stayed for 4 days in September, 2012

The location was amazing to discover Praha. We were in the center of the city. One of the best thing is the fact that we did all the visits without taking the bus. The city is really safe, there is no problem to go home at 5 a.m after club :)

light no working in the out corridor,the floor as to be change.

SCHLEIDER J. from Bures sur Yvette France, 21. September 2012

Stayed for 9 days in September, 2012

The reservatio works very good, but the level of decoration and comfort is very midle class.

au coeur du centre ville, propre et très fonctionnel

Elodie R. from Nantes France, 16. September 2012

Stayed for 4 days in August, 2012

appartement très propre et bien équipé.
super bien placé, idéal pour visiter( proche de tout à pied). super ville, à visiter!


très bien !

Vanessa T. from PLAISIR France, 10. September 2012

Stayed for 4 days in August, 2012

très bonne location, indications fournies en adéquation parfaite avec la réalité !!

All were perfect

Christine P. from LYON France, 26. July 2012

Stayed for 2 days in July, 2012

I have been for the second time in this flat. We were very happy with the flat and if I have the possibility to come once again in Prague, i will rent this flat once again. Thank you very much Rent&go !

good location

Santurtzi Spain, 15. July 2012

Stayed for 4 days in July, 2012

Nice location, but old fashioned and very noisy equipments (fridge,...)

A close location to the city center but noisy

Philippe J. from Bruxelles Belgium, 07. July 2012

Stayed for 4 days in July, 2012

Due to hot weather we had to keep the window open during the night and got the noise of the street

Fantastic stay at the Roxy!

Manchester United Kingdom, 15. June 2012

Stayed for 5 days in June, 2012

We stayed at the Roxy apartment for 5 days and cannot fault it - place was spotless and had everything you could need on your trip, but the best thing about this apartment is how close it is to Old Town Square - you can walk there in a few minutes. Would definitely recommend the Roxy!

Great location.

United States, 28. May 2012

Stayed for 3 days in May, 2012

Great location but a bit noisy from the bars across the street. Very clean, spacious, working elevator. TV and radio did not work, bottle opener is broken. Overall nice stay.

a week end in Prague

Clamart France, 21. May 2012

Stayed for 2 days in May, 2012

We just appreciate the well-organized system of Rentego, , the location of the appartment, so near from the centre of the old town, the services provided in the appartment...good enough for 3 days, may be not for a year stay!

Really good experience with Roxy

Nikita Y. from Moscow Russian Federation, 14. May 2012

Stayed for 13 days in April, 2012

Starting from booking we had excellent support from RENTeGO team. Instructions "how to get to the appartment" really impressed us.
Roxy has perfect location close to main sights of Prague, metro and some good department stores. Easy access to the airport by public transport.
Appartment is not so big but enough for couple. Without any doubts we will stay at Roxy again.
P.S.: if you like to sleep with open windows just take in mind that Dlouha street is lively at night. And it could be a little bit noisy. But for us it was not a big problem. Prague never sleeps )

Roxy

John Z. from 61555 Druid LN United States, 30. March 2012

Stayed for 6 days in March, 2012

The apartment was great, everything I needed. The staff however was the most helpful part. They went beyond what they should have to Take care of any questions and/or needs and I am very thankful.

Nice value, great location

Winona B. from Missoula United States, 10. March 2012

Stayed for 10 days in February, 2012

The Roxy apartment is a modest flat in the heart of Prague. Nothing fancy about it but it is one of the best locations from which to explore the city, plus it's directly across the street from the BEST Pilsner restaurant in the city -- Lokal. (You must check out their affordable food and fantastic beer!)

We used the minimal kitchenette for breakfast and snacks, which helped us save money. With its convenient location, we could also return to the flat mid-day if necessary to rest for a few hours between sightseeing excursions. The Rentego staff were quick to respond to our requests (which were few) and very professional. I would suggest to them to get some graphic design help with their city and neighborhoods guides (which they provide to you for free -- very nice!), but obviously this is a minor point! : )

Again, it's a modest flat, but the bed was comfy, the bath/shower worked great, and everything was spotless and functional. We found it to be a great value.

Perfect !!!!

Xavier R. from Chateauneuf de Gadagne France, 27. February 2012

Stayed for 3 days in February, 2012

Clean, very fast in case of problem, no loss of time in administrative matters, very good advice about the city... Only regret that Rentego is only in Praha !

nice trip in Prague!

Amelie D. from Bourg en Bresse France, 30. October 2011

Stayed for 5 days in October, 2011

Nice place, well placed and comfortable apartment. And beautiful city!!

Not so bad

Stayed for 10 days in September, 2011

Near tje center, but in a wa spartiat...

x

Marielle G. from CREGY LES MEAUX France, 03. October 2011

Stayed for 3 days in September, 2011

x

Génial

Herve R. from ALBERTVILLE France, 02. October 2011

Stayed for 7 days in September, 2011

C'est la deuxième fois que je pars dans un appartement Rentego et il n'y a rien à dire. Une valeur sure. nous avons toujours été très près du centre. Tout s'est fait à pied. Et le service d'envoi marche très bien. Le petit plus : un guide du quartier de l'appartement choisi et un petit guide de prague.

With a child in Prague

Eliana N. from Palma Campania Italy, 06. September 2011

Stayed for 4 days in August, 2011

Apartment was like the description just a little more used than in photo. The building was quiet but in the hall some lights doesn't work. Elevator is not really safe about our standard but for few days doesn't matter. It will be useful a moka because
each expresso in prague costs like 4 italian espresso!

Un très bon séjour.

Vincent A. from Paris France, 05. September 2011

Stayed for 5 days in August, 2011

Nos avons passé des vacances formidables. Ceci est notamment dû au fait que notre appartement dépassait nos espérances.

Great place to stay.

Luton United Kingdom, 31. August 2011

Stayed for 7 days in July, 2011

Génial

Thomas L. from Poisy France, 11. August 2011

Stayed for 6 days in August, 2011

Prix au top et facilité de réservation. L'appartement était très bien et situé en centre ville ce qui est très pratique. Nous avons été vraiment satisfait et serions prêt à renouveler l'expérience.

Marion S. from Chatillon France, 30. April 2011

Stayed for 3 days in April, 2011

Gerard T. from MONCEAUX France, 25. April 2011

Stayed for 3 days in April, 2011

An amelioration sujection : to supply and to install blackout curtains on the Roxy flat (for good sleep especially in the morning)

Thierry T. from Lyon France, 20. April 2011

Stayed for 3 days in April, 2011

Un grand merci à l'équipe Rentego pour leur efficacité et disponibilité.
L'appartement Roxy est très bien situé et très calme (fenêtre fermée). Personnellement je recommanderai cet appart à mes amis avec toutefois un bémol en cas de température extérieure élévée nécessitant de dormir la fenêtre ouverte (je suis particulièrement sensible au bruit).
On reviendra avec plaisir.

super location trés calme tout près de la place de la vielle ville. Seul bémol, pas de rideau occultant à la fenètre

alain b. from MONS France, 17. April 2011

Stayed for 5 days in April, 2011

Krystyna W. from MONTREAL Canada, 11. April 2011

Stayed for 4 days in April, 2011

Each time Icome to Prague I stay at Roxy, so it was my third stay there thant mean I love it !!!

Vincenzo R. from Cuesmes ( Mons) Belgium, 05. April 2011

Stayed for 4 days in March, 2011

appartement tres propre,trés bien équipé,trés bien situé,seul bémol un peu bruyant la nuit

EPERLECQUES France, 28. March 2011

Stayed for 4 days in March, 2011

Dominique L. from Lyon France, 07. March 2011

Stayed for 4 days in March, 2011

Bravo for everything!!

Staying in Praha

Marion L. from Tournefeuille France, 11. February 2011

Stayed for 6 days in January, 2011

We stood one week in the "Roxy appartement", it was just perfect.
The pictures on the website are totaly true: the flat is excactly as shown. Nothing miss (there are all the furnitures you can need!)and it's realy clean.
The most important thing i have to talk about is the ideal location! I will definitely recommand the website to my relations! Enjoy your hollydays with rentego... ;-)

Cyril M. from Saint\\x2DMartin d\\x27Heres France, 27. January 2011

Stayed for 3 days in January, 2011

le séjour c'est très bien passé

nantes France, 21. January 2011

Stayed for 5 days in December, 2010

le séjour c'est très bien passé. La ville est magnifique.
l'appartement est très bien situé dans le centre, facile a trouvé.
il était très propre, en bon état et très bien équipé. je pense qu'une horloge dans le salon serait un plus et que des rideaux plus opaque ou des volets seraient bien aussi( ceux en place sont un peu transparent et laisse passer la lumière le matin) mais sinon rien a dire de particulier.
et pour le personnel de rentego très bien. j'ai reçu plein d'info par mail sur la ville et il y avait dans l'appartement plein de documentation aussi très utile.
voila bonne journée

très bien situé. Appartement très modeste mais très propre.

Montreal Canada, 12. January 2011

Stayed for 8 days in December, 2010

Lit confortable. Tant qu'à la cuisine nous ne l'avons pas utilisée.
salle de bain très convenable.

Elise B. from L'Hay les Roses France, 02. January 2011

Stayed for 4 days in December, 2010
Check in time
Check in after 12h30 (possibility to leave luggage in from 10h15)
Check out time
Check out by 09h45 (possibility to leave luggage in until 09h45)
Easy check in
Code locks or personal welcome allow you to go directly to ...
More info on check-in/out
Amenities
available in all our properties
Various

Bed linen and towels, Radio and CD player, Ironing board, Iron, Hairdryer

Environment

Internet cafe, Grocery open late, Nice café to breakfast outside, …see downloadable neighborhood guide for details
Kitchen

Microwave oven, Fridge, Hotplate, Toaster, Coffee-machine
List of amenities in this specific property
Business

Free Internet access( Wifi/LAN), Internet Café within 10 minutes, Distributeur de billets/ATM, Poste/ Post office

Entertainment

Radio
Family

Cinémas / Movie Theatre

Kitchen

Cafetière / Coffee machine, Coffee Maker, Cookware, Four micro-ondes/ Microwave oven, Full Kitchen, Grille pain/Toaster, Microwave, Oven, Plaques chauffantes / Hotplates, Réfrigérateur / Refrigerator, Refrigerator, Stove, Toaster, Utensils

Living

Draps et serviettes / Linen, Linens, Planche à repasser/Ironing Board, Sechoir a linge / Clothes horse, non-smoking, Heating, Hair dryer, Baby cot and baby chair (option), Parking within 5 minutes (option
Find properties available for your stay dates:
- Nearby properties you might be interested in.
Downloads
Additional information you might be interested in.
Parking

We recommend you to use a guarded parking because of the high car theft risk - click here.

Transfer

For more info about transfer in Prague click here.