Search
Property detail & price proposal
Reserve
Thank you
NOVA - Tiny and cosy studio only a few minutes walk from Charles Bridge
Studio for 2 guests (max. 2) • Ujezd 5, Prague
Contact the manager
Call Vladka
US 302-261-5207
or fill our mini-form
Video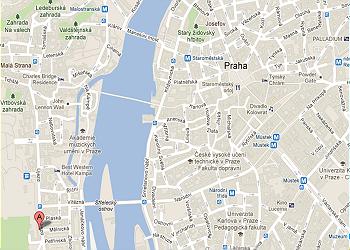 Nova is a modern, affordable, well-furnished studio, perfect for one person or a couple. Since it is well-situated in the center of Prague, it is very easy to discover the beauties of the city. The apartment is located in the historical part called Mala Strana, which is very close to the Prague Castle or only 10 minutes from Charles Bridge. It takes under 30 minutes to get to most of Prague's tourist attractions and the best restaurants and bars in the city. The apartment offers a comfortable pull-out sofa and a kitchen equipped with everything needed to make simple meals (coffee maker, microwave, toaster etc.)There is also a high speed internet connection available, convenient for work or just planning another Prague trip. Apartment Nova is on the third floor without an elevator and has a smaller bathroom than our other apartments, which makes it more affordable. It is also non-smoking, with the option of smoking on the balcony. The building itself is equipped with keyless code locks, which is practical for last minute reservations. For a better idea of what the apartment looks like scroll down for a view of the floor plan. The apartment building is located under the Petrin hill, near the river in the area called Mala Strana. It was built in 1895 by a well-known architect, who built it for himself, explaining the its good qualities. Petrin is undoubtedly the best place for those who like visiting tourist attractions as well as having a taste of nature at the same time. Just behind the building is the historical Hunger Wall, which apparently served to defend Prague. In 1361, the year of drought and poor harvests, the prices of bread increased severely, which left many people without enough food. In order to feed their families, the locals resorted to frequent theft, augmenting the criminal activity. King Charles IV therefore called upon the locals to build a protective wall from Petrin to the Vltava River. The construction took two years and fed many families, resolving the problem. The Prague people named the wall "The Hunger Wall", because its battlements resembled the teeth of the starving folks building it. At the end of the street is Kinsky Square, known especially for the T34 tank, which commemorated the liberation of Prague by the Soviets in 1944. After the Velvet Revolution in 1989 an artist David Cerny painted it pink. Actually, it was not so much of a political gesture as an attempt to capture the attention of some girl. Later a fountain was built in the original location where the tank stood, but there still a little pink part of it on the square which constantly reminds us of our history. The apartment is also near the French Quarter, only a 5 minute walk from the French Lycée. For those who plan to stay in Prague for a bit longer, will appreciate the proximity to a nearby shopping center called Novy Smíchov, which is only 2 tram stops away. The tram stop (tram line 6, 9, 12, 20, 22) is right in front of the building as well as a bus stop, line 176.
Address

Ujezd 5,

Parking

Not included but a few minutes by walking from the property click for parking advice

Floor

3

Elevator

No
Bathroom

1

Surface

18 m2

Sleeping arrangements

1 Sleeper
recommended by
Michelin Tour Guide 2010
Michelin: Properties all in Prague 1... high quality service ... very attractive prices
Prague Guide
Prague Guide
Reviews for this property
Also a perfect flat for a lonely traveller

Arnaud P. from Rennes France, 28. November 2013

Stayed for 7 days in November, 2013

I spent 7 days in this apartment and it was a very nice experience. Close to the Charles bridge, it is well-located.
Moreover, you can find a fully equipped flat with all the necessary for your stay (including wi-fi).
I really enjoyed to be in contact with Rentego, an efficient team.
In the end, I recommend this flat without a doubt.

Calme et très bien situé

Marseille France, 01. November 2013

Stayed for 8 days in October, 2013

Très bien situé..à proximité de tous les lieux à visiter mais sans l'affluence des touriste...pas besoin de tram ni métro pour déambuler. Proximté des parcs pour profiter de l'automme. A proximité aussi de lieux pour d'agréables soirées. Resto et boite de jazz. Calme mais il est vrai qu'à l'automne beaucoup de touristes ont déjà déserté Prague et que nous avons profité d' un exceptionnel automme indien.

Nova staying experience

Ervin P. from Ireland, 03. October 2013

Stayed for 17 days in September, 2013

Great location, friendly staff. I will recommend to everyone who is coming in Prague to try RenteGo properties. Does really worth.

luggages

BELLEY France, 13. September 2013

Stayed for 5 days in August, 2013

Having the code of the flat at 6 o clock at the evening is too late. We carried our luggage during the all day and it was to long. If we could have the flat ealier or a place to put our luggages. Thank a lot for the vacation

Bon rapport qualité/prix

Camille T. from Amiens France, 04. August 2013

Stayed for 4 days in July, 2013

Studio parfait pour un couple qui ne veut pas dépenser des mille et cent pour un logement de vacances. Très propre, pratique et bien équipé, situé à moins de 5 min à pieds des premiers lieux touristiques, cet appartement est à recommander vivement. Le système de codes est de plus très appréciable car nous sommes très indépendant dès notre arrivée. Nul besoin de récupérer une clé on ne sait où dans une ville qu'on ne connait pas. Pour finir le studio est très facilement accessible depuis l'aéroport et ce à moindre frais: bus, métro et petite marche à pied; c'est enfantin!

Magnificent!

Tor Magnus T. from Oslo Norway, 17. July 2013

Stayed for 4 days in July, 2013

I have absolutely nothing but great things to say, me and everyone that shared the flat were really happy with the entire stay!

Je recommande

Christelle D. from Haubourdin France, 13. June 2013

Stayed for 3 days in May, 2013

Studio bien place, nous avons tout fait a pied. Excellent rapport qualité/prix si on ne recherche pas le cosy,

Enchantés de notre séjour !

Jacques M. from ERMONT France, 13. May 2013

Stayed for 4 days in May, 2013

Petit logement très propre, fonctionnel, confortable et très bien situé dans Prague.
Attention 3ème. étage mais 83 marches !!!! .... et après avoir sillonné Prague à pied toute la journée !!........
A recommander mmême pour un séjour plus long.


-----------------------------------------------------------------

ANNIO GIOVANNI M. from ---- Italy, 17. April 2013

Stayed for 4 days in April, 2013

---------------------------------------------------------------------------

VERY GOOD !

Claire J. from Paris France, 30. March 2013

Stayed for 5 days in March, 2013

A LOVELY STAY !

Hermosa estadìa en Praga

Gordevio Switzerland, 29. January 2013

Stayed for 4 days in January, 2013

Un departamento perfecto: limpio, centrico, economico,... La verdad que fue un gusto la estadìa.

stay December 2012

ALAZET C. from TOULOUSE France, 30. December 2012

Stayed for 4 days in December, 2012

Very satisfying; very helpful team: we sent a text message for a heating problem, they solved it right away; very well-organised; quiet district, pleasant walk to the old town; would recommend it;

sgfgsf

VENEJAN France, 12. December 2012

Stayed for 2 days in December, 2012

dgfsdg

Location RenteGo pour Prague, solution idéale!

Villeneuve d\\x27Ascq France, 11. September 2012

Stayed for 3 days in August, 2012

Je suis extrêmement satisfaite de ma location RenteGo. Avant le voyage, j'ai reçu le code de l'immeuble, ainsi que celui de l'appartement, ce qui permet d'arriver directement au bon endroit sans intermédiaire. Idéalement placé, à une dizaine de minutes du centre ville touristique. L'appartement (NOVA) est bien équipé, propre, avec de nombreux conseils très utiles pour gagner du temps et passer un bon séjour à Prague! Excellent rapport qualité/prix, j'y retournerais sans hésiter !

Location NOVA - Quartier Mala Strana

Puget\\x2DVille France, 16. July 2012

Stayed for 6 days in July, 2012

Très bon séjour. Service nickel, équipe très efficace. Appartement très bien situé, dans un quartier agréable et très près du centre ville. On le recommande.

Convenient accommodation at Rentego's Nova

Braintree United States, 28. June 2012

Stayed for 8 days in June, 2012

Rentego's staff and apartment in Mala Strana, Prague provided everything necessary to make my first trip to Europe a great one. An ideal location puts you close to the wonderful sites and services without the crowds. I enjoyed the comfortable stay and ecxellent value. I would absolutely return and recommend!

Belle surprise, bel accueil!

Sebastien W. from Vauréal France, 26. March 2012

Stayed for 3 days in March, 2012

Petit problème de fonctionnement du chauffage mais à part ça (ce sont des choses qui arrivent), très bonne surprise dans l'ensemble, les autres appartements sont également très bien.

Response from RENTeGO

12. April 2012

Merci beaucoup pour Votre commentaire! Nous nous occupons de probleme de fonctionnement du chauffage. RENTEGO

Satisfied with my stayed in Nova flat.

Yago P. from Spain, 25. March 2012

Stayed for 16 days in February, 2012

Nova is a comfortable flat and it´s is near Old town, so i´ts a very useful flat.

One week return to Praha

Adam P. from ---- United States, 07. December 2011

Stayed for 7 days in November, 2011

Overall the stay was great. The location is close to groceries, a mall, public transport (although you SHOULD walk every where in Prague) and pubs (possibly the best part of Prague).

Just watch out if you have to do laundry, I never found a laundromat in the area and although you can wash your shirts etc. in the sink, drying them will be a problem.

nice stay

Lyon France, 18. September 2011

Stayed for 10 days in August, 2011

Nice, quiet, friendly, clean, convenient...I recommend !

Ottawa Canada, 08. August 2011

Stayed for 3 days in July, 2011

Perfect location; surrounded by some of Prague's best (and not too touristy) restaurants and bars. Great apartment - small but perfectly proportioned. Super clean, though it may be time in the near future to replace some of the bedding... Staff were very friendly and reserving and getting into the apartment was easy. Thanks!

ISABELLE L. from EVREUX France, 22. July 2011

Stayed for 8 days in July, 2011

Vincent D. from Aulnay sous Bois France, 02. June 2011

Stayed for 6 days in April, 2011

roma Italy, 20. May 2011

Stayed for 4 days in April, 2011

Adrien B. from LIBOURNE France, 02. January 2011

Stayed for 4 days in December, 2010

Všechno dobré !!!

Praha 9 - Klanovice Czech Republic, 28. December 2010

Stayed for 5 days in December, 2010

Všechno dobré !!! Díky, hodne štestí a úspechu v novém roce.
Check in time
Check in after 19h00 (possibility to leave luggage in from 17h45)
Check out time
Check out by 16h00 (possibility to leave luggage in until 17h15)
Easy check in
Code locks or personal welcome allow you to go directly to ...
More info on check-in/out
Amenities
available in all our properties
Various

Bed linen and towels, Radio and CD player, Ironing board, Iron, Hairdryer

Environment

Internet cafe, Grocery open late, Nice café to breakfast outside, …see downloadable neighborhood guide for details
Kitchen

Microwave oven, Fridge, Hotplate, Toaster, Coffee-machine
List of amenities in this specific property
Business

Free Internet access( Wifi/LAN), Nearby ATM, Poste/ Post office

Entertainment

Satellite Television, Radio, Satellite
Kitchen

Cafetière / Coffee machine, Four micro-ondes/ Microwave oven, Grille pain/Toaster, Plaques chauffantes / Hotplates, Réfrigérateur / Refrigerator

Living

Draps et serviettes / Linen, Lave-linge / Washing machine, Linens, Planche à repasser/Ironing Board, Sèche-linge / Dryer, Sechoir a linge / Clothes horse, non-smoking, Heating, Hair dryer, Baby cot and baby chair (option), Parking within 5 minutes (option, Totally keyless access
Find properties available for your stay dates:
- Nearby properties you might be interested in.
Downloads
Additional information you might be interested in.
Parking

We recommend you to use a guarded parking because of the high car theft risk - click here.

Transfer

For more info about transfer in Prague click here.