Search
Property detail & price proposal
Reserve
Thank you
MINKA - 2 BR 10min from Charles Bridge and across the river from National Theatre
3 Bedrooms for 5 guests (max. 8) • Ujezd 5, Prague
Contact the manager
Call Vladka
US 302-261-5207
or fill our mini-form
Video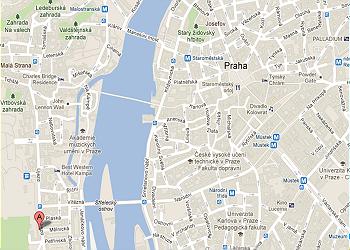 Minka is a sunny and spacious apartment, named after a cute little cat that lived in this house. The apartment is modern and well equipped for 5-8 people. Since it is in the very center of Prague, you can pop in to relax or make yourself a quick snack during the day. Minka's kitchenette is equipped with a coffee maker, microwave oven, toaster, etc., everything needed to prepare breakfast or other basic meals. The kitchen is smaller, but more practical for groups that prefer having 3 quiet rooms, 2 completely separate and little cooking to be done. For those who would like to stay for a longer period of time, Minka is equipped with a washing machine. The apartment is located in the historic district of Mala Strana with a 10 minute walk to the Charles Bridge or the National Theatre. From here you can easily enjoy all tourist attractions, culture, as well as Prague's best bars and restaurants everything not more than 20 to 30 minute walk away. As all our other apartments, there is a high speed internet connection. Also the apartment is non-smoking with the option of smoking on the balconies. If you want a better idea of what the apartment looks like, scroll down to view the floor plan. The building is equipped with keyless lock codes, useful for booking at the last minute The apartment building is located under the Petrin hill, near the river in the area called Mala Strana. It was built in 1895 by a well-known architect, who built it for himself, explaining its good qualities. Petrin is undoubtedly the best place for those who like visiting tourist attractions as well as having a taste of nature at the same time. Just behind the building is the historical Hunger Wall, which has served to defend Prague. In 1361, the year of drought and poor harvests, the prices of bread increased severely, which left many people without enough food. In order to feed their families, the locals resorted to frequent theft, augmenting the criminal activity. King Charles IV therefore called upon the locals to build a protective wall from Petrin to the Vltava River. The construction took two years and fed many families, resolving the problem. The Prague people named the wall "The Hunger Wall", because its battlements resembled the teeth of the starving folks building it. At the end of the street is Kinsky Square, known especially for the T34 tank, which commemorated the liberation of Prague by the Soviets in 1944. After the Velvet Revolution in 1989 an artist David Cerny painted it pink. Actually, it was not so much of a political gesture as an attempt to capture the attention of some girl. Later a fountain was built in the original location where the tank stood, but there still a little pink part of it on the square which constantly reminds us of our history. The apartment is also near the French Quarter, only a 5 minute walk from the French Lycée. For those who plan to stay in Prague for a bit longer, will appreciate the proximity to a nearby shopping center called Novy Smíchov, which is only 2 tram stops away. The tram stop (tram line 6, 9, 12, 20, 22) is right in front of the building as well as a bus stop, line 176.
Address

Ujezd 5,

Parking

Not included but a few minutes by walking from the property click for parking advice

Floor

3

Elevator

No
Bathroom

1

Surface

79 m2

Sleeping arrangements

3 Single bed(s), 1 Sleeper, 1 Other bed- see Floor Plan for details, 1 Double/Full Bed
recommended by
Michelin Tour Guide 2010
Michelin: Properties all in Prague 1... high quality service ... very attractive prices
Prague Guide
Prague Guide
Reviews for this property
une trés belle démonstration d'une prestation de qualité

Xavier l. from Neuville sur saone France, 09. September 2013

Stayed for 4 days in August, 2013

I

Super !

Philippe P. from Guyancourt France, 03. September 2013

Stayed for 3 days in August, 2013

Très bien placé, très spacieux, super cool.

Our time at minka

simon m. from Llanfyllin United Kingdom, 19. August 2013

Stayed for 3 days in August, 2013

Rentago managed the whole administration in an entirely professional manner. The apartment was great - exactly as hoped. Value for money excellent. Minor point - the information for drivers could have been more helpful, printed information regarding loading / unloading and parking on the street was unclear.

Fantastic apartment and location

zvika w. from Hod Hasharon Israel, 26. July 2013

Stayed for 7 days in July, 2013

We rent Minka apartment for our family vacation at Prague
The apartment is well equipped with full kitchen 2 bed rooms and large living room the bed rooms coming with lining and towels so you just come and enjoy the flat.
Wifi is working good in most of the flat beside the children's room..
The location is in a very nice place of Prague thogh quite and not crowded , down stairs in the street you can find 3 groceries that are opening 7 days a week until 24:00. Also in the street you can find restaurants and bank , 5 minutes walking you can find several neighborhoods pubs with excellent atmosphere and beer ...
Arriving to the old city can be by walk 30 minutes or by tram to Andel station and from their with the yellow metro to Mustak , aftrer several days of heavy walking this become very convenient and fast ( buy the 30 minutes ticket that will be sufficient ).
3 minor issues with the flat : (1) no safe in the apartment , so we had to take passport etc all days long with us.. (2) wifi minor receiving issues in the children's room (3) no air condition in the flat However in mid of July with avg temp of 23 degrees celsius they are not a necessity - we had 4 fans in the flat and this was very good ( actually humidity is very low so fans are enough )

The staff of Rentego are excellent , responsiveness , they make sure that your stay will be in minimum problems. In no time they solve problems with the apartment , they return your calls immediately, for our quest for a late check out they response with immediately yes after checking that the flat is not booked.
They use electronic keys to the apartment so you can arrive late in the evening with the code they send in advance , very convenient

Highly recommended ! (No elevator so with restriction to limitation)

satifaction review

chichoux j. from st etienne de montluc France, 16. May 2013

Stayed for 2 days in April, 2013

Very good experience and pleasant stay in Prague

my english is too bad to give you an answer

Jean-Christophe F. from ESSERTENNE France, 16. May 2013

Stayed for 7 days in April, 2013

except for the hot water for shower it was excellent

Quite good apartment

Pierrick G. from PARIS France, 13. May 2013

Stayed for 5 days in May, 2013

Great location, very calm.
Great apartment.

??????? ?????!

Stanislav D. from Ekaterinburg Russia, 06. May 2013

Stayed for 5 days in April, 2013

????? ?????? ????????????? ???????????. ?????????? ???? ??? ???????????: ????????? ?????????? ? ????, ??????? ??????????? ???????, ????????? ??????? ? ??????????, ?????????? ??? ??? ????????. ????????? ?????? ???? ?? ??????? ? ?????????? ??????? ??????? ????????? ????????. ????????? ???????????? ???????? ??? ?????, ???? ????????? ???? ???????? ??????. ??? ????? ? ????????, ??????? ????????? ????? ? ?????????, ? ????? ??????, ???, ???? ? ?.?. ????? ???????? ?????? ??????. ??????????!

Great Location - Easy Connection

Reichenbach Steegan Germany, 29. April 2013

Stayed for 3 days in April, 2013

Keyless Entry was terrific. Directions and things to do booklets in the apartment were great. Easy connection to tram stop right out front. Loading and Unloading can be a challenge 'legal' parking may not be available. Just leave someone to watch the vehicle. We parked at the garage under the opera house short 30 min walk or a tram ride. I would stay here again.

Perfect

Adam C. from Harlow United Kingdom, 20. March 2013

Stayed for 3 days in March, 2013

Spent a long weekend (Fri-Mon) in Prague with 5 friends and it was made even better by the RENTeGO apartment and team with helpful e-mails and clear directions on the codes to be used and who would be waiting for us at the airport.

I could not fault the apartment and for the price we all paid I was amazed at how clean and well kept it was, I would stay here again in a heartbeat!

The apartment was in nice quiet area opposite a nice restaurant the Meduzza and for some late night food a Chinese that was open until about 11:00 next door, the apartment is about 15min walk from the Old town but the walk in well worth it and a good thing to do to scout out some pubs & clubs.

Overall could not have had a better place to stay and would recommend RENTeGO to anyone!

Thanks RENTego!

Adam

.

Czech Republic, 12. March 2013

Stayed for 9 days in March, 2013

.

Minka

George D. from Germany, 21. February 2013

Stayed for 2 days in February, 2013

RenteGo was very easy to work with and very profesional. They gave you a code with your confirmation to access the property so no keys were required and it was easy to come and go as desired. Would highly recommend this company!!!

PARFAIT.TRES BON SEJOUR. A RECOMMANDER.

NATHALIE D. from rosny sous bois France, 30. January 2013

Stayed for 3 days in January, 2013

Location parfaite, rien ne manquait, propre et lumineux.
Famille avec deux enfants dont un bébé.(lit bébé, chaise haute)
Très confortable, très bien chauffé, bon matelas, lave vaisselle et lave linge !
Idéalement situé, commençants, restaurants, supermarché.
Une navette aller et retour organisée par renteGo.
Vous pouvez y aller les yeux fermés.
Organisme très sérieux, à recommander.


perfect compagny

amandine c. from United States, 03. December 2012

Stayed for 5 days in November, 2012

very good

Very nice stay

United States, 24. September 2012

Stayed for 2 days in September, 2012

The apartment is very clean and neat. It is in walking distance to Charles bridge and the main sights. Has double door security so very safe, also very quiet. Has quite a lot of stairs however and no lift. The instructions to find the place and get inside were very good.

Very well arranged

Denmark, 20. September 2012

Stayed for 4 days in September, 2012

-

tres bon sejour,appartement tres bien situe nous reviendront.

MARLENE G. from ANDERT\\x2DCONDON France, 04. August 2012

Stayed for 3 days in July, 2012

appartement superbe tres bien ammenage calme a deux pas du centre historique toute commodite a proximite excellent rapport qualite/prix .

best choice ever

United States, 02. May 2012

Stayed for 1 days in April, 2012

we´ve been a groupe of friends, celebrating birthday in Prague. The apartment was next to Charls bridge, so most of the sights you can reach by feet and... of course also the party locations.

séjour en famille en avril 2012

Nathalie J. from osny France, 22. April 2012

Stayed for 3 days in April, 2012

logement très bien situé qui permet de tout visiter à pied. la location est propre et bien équipée. Tous les commerces sont à proximité. Très bon rapport qualité/pris. Excellent séjour en famille (6 personnes) Prague est une ville magnifique. Merci

Minka - March 2012

Grenoble France, 02. April 2012

Stayed for 4 days in March, 2012

Flat very well located, clean, calm and spacious.

Appartement à recommander!

Paul B. from USTARITZ France, 16. March 2012

Stayed for 3 days in March, 2012

Appartement conforme aux photos, confortable, bien situé, ++

belle experience

blandine b. from marignier France, 03. October 2011

Stayed for 4 days in September, 2011

appartement bien situé, systeme de reservation bien au point, rien à redire

Visiting Prague

United States, 16. September 2011

Stayed for 5 days in August, 2011

We went to the Czech Republic to rest without tour operator, MINKA apartments rented by RENTeGO was very nice, especially the view from the balcony. I recommend this apartment, one of the main things is location: Charles Bridge and Old Centre was just
in a few steps.

huit jours à Prague

LE CHATELET EN BRIE France, 19. August 2011

Stayed for 7 days in August, 2011

passez 8 jours ou plus dans cette grande location très lumineuse à proximité des principaux sites touristiques et cependant au calme!la réservation est rapide;l'équipe sympa et performante!

Good place and location

Gillingham United Kingdom, 13. July 2011

Stayed for 3 days in June, 2011

We had a fantastic time in Prague and the apartment was great.

Gabriel d. from Paris France, 05. January 2011

Stayed for 3 days in December, 2010

4 EXCEPTIONAL DAYS TO MINKA

Mickael P. from GRADIGNAN France, 03. January 2011

Stayed for 4 days in December, 2010

DON'T HESITATE, IT'S THE BEST CHOICE TO VISIT PRAGUE !!!

bruno h. from AUTUN France, 28. December 2010

Stayed for 3 days in December, 2010

Alban L. from United States, 25. December 2010

Stayed for 22 days in December, 2010
Check in time
Check in after 19h00 (possibility to leave luggage in from 17h45)
Check out time
Check out by 16h00 (possibility to leave luggage in until 17h15)
Easy check in
Code locks or personal welcome allow you to go directly to ...
More info on check-in/out
Amenities
available in all our properties
Various

Bed linen and towels, Radio and CD player, Ironing board, Iron, Hairdryer

Environment

Internet cafe, Grocery open late, Nice café to breakfast outside, …see downloadable neighborhood guide for details
Kitchen

Microwave oven, Fridge, Hotplate, Toaster, Coffee-machine
List of amenities in this specific property
Business

Free Internet access( Wifi/LAN), Poste/ Post office

Entertainment

Satellite Television, Radio, TV
Kitchen

Cafetière / Coffee machine, Toaster, Four / Oven, Utensils, Stove, Four micro-ondes/ Microwave oven, Cookware, Réfrigérateur / Refrigerator, Oven, Full Kitchen, Coffee Maker, Plaques chauffantes / Hotplates, Grille pain/Toaster, Dishwasher, Refrigerator, Microwave

Living

Draps et serviettes / Linen, Lave-linge / Washer, Lave-linge / Washing machine, Linens, Planche à repasser/Ironing Board, Sechoir a linge / Clothes horse, non-smoking, Heating, Hair dryer, Baby cot and baby chair (option), Parking within 5 minutes (option, Totally keyless access
Find properties available for your stay dates:
- Nearby properties you might be interested in.
Downloads
Additional information you might be interested in.
Parking

We recommend you to use a guarded parking because of the high car theft risk - click here.

Transfer

For more info about transfer in Prague click here.