Search
Property detail & price proposal
Reserve
Thank you
MASARYK - a great deal minutes by walking from Old Town and Wenceslas Square
2 Bedrooms for 3 guests (max. 7) • Havlickova 6, Prague
Contact the manager
Call Vladka
US 302-261-5207
or fill our mini-form
Video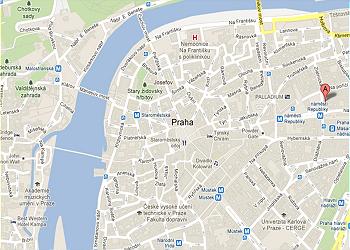 Masaryk is a spacious apartment, which has a remarkable ratio between its price and the overall capacity. You can rent this apartment for up to 7 people, although it belongs to the price range of much smaller apartments with a lower capacity. This apartment is well located in the very center of Prague. It only takes a few minutes to walk to all the major sights in Prague, such as the Old Town Square and the Wenceslas Square. There is also a tram stop "Masaryk Station" and the Republic Square metro station nearby, therefore it is very close to public transport. If you like to go out at night, be sure to drop by Long Street, which is famous for its bars and nightlife. The Masaryk apartment allows you to unwind after a long day of sightseeing. You will be able to use the well-equipped kitchen (coffee maker, microwave oven, toaster, etc.) to prepare a delicious dinner. If you rather go out for meals, you can enjoy the various fine restaurants and bars all within ten minutes! In case you are sensitive to noise, we will advise you to choose any of our other apartments in this neighborhood such as Smetana and Klimt, because Havlíckova Street is rather busy. According to excellent ratings, the windows give sufficient protection against noise. The apartment can accommodate up to 7 people and is therefore an ideal option for families or groups of friends who want to explore Prague together. As all our other apartments, there is a high speed internet connection. Also the apartment is non-smoking with the option of smoking on the floors. If you want a better idea of what the apartment looks like, scroll down to view the floor plan.
Address

Havlickova 6,

Parking

Not included but a few minutes by walking from the property click for parking advice

Floor

3

Elevator

Yes
Bathroom

1

Surface

79 m2

Sleeping arrangements

3 Single bed(s), 2 Sleeper
recommended by
Michelin Tour Guide 2010
Michelin: Properties all in Prague 1... high quality service ... very attractive prices
Prague Guide
Prague Guide
Reviews for this property
3 days in Prague

Madrid Spain, 01. December 2013

Stayed for 3 days in November, 2013

The apartment's location is great, within walking distance to all the places of interest. The Rentego staff were extremely helpful and always available to answer our doubts and solve our problems. The apartment was big, clean and very comfortable. I would totally recommend this place.

Prague visit

Kevin H. from United States, 15. November 2013

Stayed for 7 days in September, 2013

I had the opportunity to visit Prague in late September and I loved the place I stayed at. It was very spacious and there was a lot of information in the apt about things to do in the area. And they had it in different languages! It was a central location not far from sites and from where I wanted to be as well as near public transportation.

Masayk stay

Paris France, 08. October 2013

Stayed for 3 days in October, 2013

Location is convenient, appartment is huge. Rentego team very competent and helpfull.

Court séjour

Lucie P. from Montreal Canada, 02. October 2013

Stayed for 4 days in September, 2013

Appartement très confortable et bien situé, presque tout est à distance marchable. Cependant lorsque les fenêtres sont ouvertes, le tram est bruyant. Dans l'ensemble, je recommanderais cet appartement.

I was unable to

lawerence f. from New Smyrna Beach United States, 23. September 2013

Stayed for 2 days in September, 2013

Staff was very helpful. The Beds were not
Terribly comfortable and the living room furniture not clean or comfortable.
The apartment was quiet and located close to good transportation.
Bedrooms were spacious and the kitchen was well equipped and great for cooking.


very good trip

Aurelia D. from PARIS France, 06. September 2013

Stayed for 4 days in August, 2013

Congratulations for your organisation.
The flat was big, clean and good localised.
I will recommend you!

Séjour incroyable

Valentin R. from Paris United States, 31. August 2013

Stayed for 6 days in August, 2013

Nous étions 7 et sommes restés une semaine dans l'appartement MASARYK. Il est idéalement placé, au coeur de la ville et offre tout le confort nécessaire.
Je vous le recommande sans aucunes hésitations.
De plus l'équipe de RENTeGO est adorable et très serviable.
Merci pour ces vacances ;)

Praha 2013

Cedric F. from Saint-Jean Bonnefonds France, 23. August 2013

Stayed for 4 days in August, 2013

Good trip, good flat.

excellent trip

COMBES J. from SAINT JEAN DE FOS France, 19. August 2013

Stayed for 2 days in July, 2013

excellent place to live, close to the city center, perfect to leave your baggages and walk to the famous place, enjoy your visit!!

Awesome stay

Andrew H. from United States, 08. August 2013

Stayed for 3 days in August, 2013

It was everything that we expected. I liked how close it was to the town centre. Very spacious and could even accommodate for groups.

Très bon séjour à l'appartement Masaryk

FLORIAN K. from THIONVILLE France, 27. May 2013

Stayed for 3 days in May, 2013

Appartement conforme aux photos, très bien situé dans Prague à côté du centre commercial Palladium, d'une station de Tram et du Métro.
Appartement spacieux, propre. Les lits sont confortables. Pour 7 personnes c'était très bien. Je le recommande à tous! Si un jour je repars à Prague en étant ce même nombre de personnes, je le reprendrai sans hésitation!

A good stay

NOHANENT France, 16. May 2013

Stayed for 7 days in April, 2013

Very professional Rental service( Rentego) . Thank you to Vladka for her help and congratulations for her perfect French. So helpfull to be able to speak french with her.

Séjour super

BEAUCOUZE France, 06. March 2013

Stayed for 3 days in February, 2013

Très bon séjour.

overall really good

Giulia D. from Cassacco (UD) Italy, 04. January 2013

Stayed for 5 days in December, 2012

Overall it went very well. furniture was fine, checkin and checkout went very smoothly, location was great close to old town square and 2 minutes from the big shopping mall. We had problems with wifi, the shower was always leaking, some linens were missing.

Response from RENTeGO

11. January 2013

Dear Giulia, we are happy you had a pleasant stay in Prague. As per your wifi trouble, I remember having you (or someone from your party) on the phone about several issues and I considered them sorted out while navigating you directly or via our technical staff. I hope this was the case in the end... :-) We hope to have you back and wish you a great 2013! Vladka and the Rentego team

We are very happy.

lydie d. from paris France, 17. December 2012

Stayed for 2 days in December, 2012

informations, organization, the rented property were quality of good. But we hadn't understand why we had 4 sheets for 5 persons.

Response from RENTeGO

11. January 2013

Dear Lydie, we are happy you are/were happy :-) and please just call us next time you confront a problem with number of sheets in our apartment - we would have delireved them immediatlly of course :-) ! Have a great 2013 ! Vladka and Rentego team

I visited Prague, the city of my grandfather

Roberto D. from United States, 28. October 2012

Stayed for 2 days in September, 2012

La primera impresión que recibimos al ingresar al apartamento fue desagradable. El olor a humo de cigarrillos era excesivo, tuvimos que ventilar todas las habitaciones. Otra sorpresa negativa fue encontrar que en la nevera no funcionaba el freezer, pero no resulto nada grave. Lo demás, la ubicación del apartamento, el estado del mismo y del edificio, el moderno ascensor (creíamos que el acceso era por escaleras), todas las explicaciones recibidas para el check-in y el check-out y la facilidad del sistema de contratación fueron excelentes.
De volver a Praga, volveríamos a contactarnos con Uds. And we loved Prague!!!

Masaryk

Amy R. from Hartford United States, 25. September 2012

Stayed for 3 days in September, 2012

The place was clean and spacious, but for 112 Eur. I was expecting something a bit less basic. Strange living room arrangement, not conducive for relaxing and the furniture was old Ikea or worse. Our last day the key pad combination was changed and we were locked out, so had to go to the nearby Hilton to ask the concierge to call the rental agency. The person we talked to seemed irritated, as if it were our fault! It could have been a disaster. However, the location is excellent and an easy walk to the metro, train station, Old Town, etc. Small gripe, but if I'm paying that much, should I have to take out my garbage when I leave? Isn't that what the cleaning service does?

Response from RENTeGO

27. September 2012

HI Amy, I went carefully through our correspondence, which includes many many emails :-) and I confirm the following : You confirmed a reservation for 2 nights, but once you have received the final confirmation ("Payment confirmation" with an entrance code 517899, that worked only till the 14th ) you realised you only reserved for 2 nights instead of 3. We agreed on adding that extra night (see my email from August 11th) and sent you another "Payment confirmation letter , obviously with another entrance code 70594. This is the code you were supposed to be using - that worked till the 15th. My question about the code you used was obvious - not being sure if you used the right code and knowing that in case you used both, they cancel each other, so that not one would work. You called our hotline and we picked up and gave you immediately a code that let you in. This is to say that there was clearly no mistake made from our side and I am sorry you feel disappointed with the service, but we really did our best to make your stay pleasant and far from being desasterous :-). This being said, we are happy you had a nice trip in general and will be happy to have you again in our apartments:-) Vladka Navel

Perfect stay in Prague

PARIS France, 19. September 2012

Stayed for 3 days in August, 2012

I go to Prague quite often and was looking for a place to stay for 2 to 4 people, not too expensive, in the center but not in the tourist area and I found exactly what I wanted!
Huge rooms, confortable beds, convenient furnitures and perfect location.
I would certainly advise to go there.

Séjour à Prague à l'appartement Masaryk

Stephane B. from COURTRY France, 27. August 2012

Stayed for 6 days in August, 2012

I have appreciated a lot the service of Rentego. I had already gone there two years to Prague with the same agency and if I return in Prague I would go back by this agency.

very good

Dominique G. from BOULIAC France, 09. August 2012

Stayed for 7 days in July, 2012

thank you !

Masaryk Apt

Sunrise United States, 02. August 2012

Stayed for 2 days in July, 2012

The good:

Large apt very close to all sights. Parking at the Mariott within 1 block. Small store on the 1st floor was convenient for drinks and small items. Looks like a new elevator is being installed.

The not so good:

Seems that items reported as broken over the last year have not been resolved. Wash machine is not working, freezer not working. Nothing that would ruin a trip, but not as expected.

I will say that the staff was very quick to respond to the issues and offer solutions. The entire process from booking to departure was very well organized. They provide great documentation on the area and the rental process itself.

Merveilleuse ville de Prague

ROUEN France, 15. May 2012

Stayed for 7 days in April, 2012

L'appartement est idéal pour un séjour familial, spatieux et très bien situé pour tout faire à pied. Je recommande Rentego comme système de location simple et efficace.

Lovely apt in charming old house Prague 1

Ishoj Denmark, 09. April 2012

Stayed for 8 days in March, 2012

Everything worked well, only a few cleaning issues. The washing maschinery was full of long hair. Not very charming.
The freezer didn't work, and seemed to have not been working for some time.
A fridge with a small internal freezer might do it, just for icecream, ice cubes and a little food.
Some of the windows had issues with the handles, nothing alarming, but it might need a check-up.
Apart from the technical details, everything was super. And location is perfect, not to close to the party zone.

Response from RENTeGO

12. April 2012

Thank you for Your review! We`re working on putting in order the issues You mentioned. We` re looking forward to see You in Prague again! RENTEGO

Prague

SAINT JEAN DE LUZ France, 21. March 2012

Stayed for 2 days in March, 2012

Very good place, clean and quiet
Go

Séjour parfait!

CALUIRE France, 25. February 2012

Stayed for 5 days in February, 2012

Un emplacement parfait pour découvrir Prague. Nous n'avons jamais pris les transports en communs (qui sont au bout de la rue). l'appartement est grand, spacieux, bien équipé, calme, fonctionnel. Bref, au top!

Seul (très) petit bémol : les 3 étages sans ascenseurs pour les bagages...

Exceptional service, flat size and location

Saint Petersburg Russian Federation, 14. January 2012

Stayed for 3 days in January, 2012

We've enjoyed our stay very much - it's hard to tell details about what has been good - almost everything was perfect.
One minor thing - the washing machine was broken, has to be repaired.
Apart from that, everything was excellent. I will definitely recommend your company to my friends. Thank you.

OK

ROLAND R. from GROOT-BIJGAARDEN Belgium, 12. January 2012

Stayed for 5 days in December, 2011

Good

X-mas at Prague

Versailles France, 28. December 2011

Stayed for 5 days in December, 2011

We had a wonderful holiday in Prague.The appartement is ideally situated and the rentego team very professional and helpful.

Très bonne expérience à Prague

France, 07. November 2011

Stayed for 4 days in October, 2011

Tout c'est très bien passé
Pour la reservation votre équipe parlant français, cela à grandement facilité les démarches. De plus vous avez toujours été très sympatique que ce soit au téléphone ou sur place ou l'acceuil a été très agréable.
Merci beaucoup

???????, ???? ????????? ? ???????.

Tatyana K. from Russian Federation, 17. October 2011

Stayed for 4 days in October, 2011

??? ???????????, ????? ?????????? ???.

Great team, great location, recommended !!!

BALMA France, 13. October 2011

Stayed for 3 days in October, 2011

All perfect, staff, location, city. thks !!

Very good

Alexandre M. from Geneve Switzerland, 28. August 2011

Stayed for 4 days in August, 2011

Très satisfait. Appartement très propre et très bien placé.

Jean-Sebastien P. from ANGERS France, 28. August 2011

Stayed for 3 days in August, 2011

Agréable séjour

PHILIPPE L. from PLESCOP France, 28. August 2011

Stayed for 5 days in August, 2011

Appartement bien situé (nous avons tout visité à pied), confortable, très propre et spacieux.

Appartamento in ottima posizione centrale ideale per un soggiorno

domenico r. from United States, 21. August 2011

Stayed for 3 days in July, 2011

Nathalie P. from ---- France, 04. August 2011

Stayed for 5 days in July, 2011

isabelle c. from aurillac France, 28. July 2011

Stayed for 4 days in July, 2011

aude c. from granges les beaumont France, 21. July 2011

Stayed for 3 days in July, 2011

C'est dommage que rentego ne soit présent qu'à Prague car le principe est vraiment bien et l'équipe est compétente: les réponses aux mails sont rapides. Merci

Linda Thériault (Lac-Beauport, Québec, Canada)

Linda T. from Lac\\x2DBeauport Canada, 12. May 2011

Stayed for 6 days in April, 2011

Grand appartement très bien situé. Près de la vieille ville et de la gare.

Montauban France, 11. May 2011

Stayed for 4 days in May, 2011

Gemma N. from Castejon Spain, 02. May 2011

Stayed for 4 days in April, 2011

Prague Apartments

Colleen K. from ---- United States, 07. April 2011

Stayed for 4 days in March, 2011

Had a heat and hot water problem in first apartment, but agency took care of it right away and was very helpful with us moving apartments. Great service and gorgeous apartments, I have already recommended it to many friends!

France, 05. April 2011

Stayed for 2 days in April, 2011

Very good reactivity and availability of the local contact person.

United Kingdom, 27. February 2011

Stayed for 36 days in January, 2011

Catherine D. from Saint-Pancrasse France, 07. January 2011

Stayed for 5 days in December, 2010

Happy in 2006, and still happy in 2010 :-)

CEDRIC C. from SERVIAN France, 19. December 2010

Stayed for 6 days in December, 2010

We sent you the (paper) survey with the key. I'll continue to recommend Rentego to all my friends who want to stay in Prague :)
Check in time
Check in after 14h30 (possibility to leave luggage in from 13h15)
Check out time
Check out by 11h30 (possibility to leave luggage in until 12h45)
Easy check in
Code locks or personal welcome allow you to go directly to ...
More info on check-in/out
Amenities
available in all our properties
Various

Bed linen and towels, Radio and CD player, Ironing board, Iron, Hairdryer

Environment

Internet cafe, Grocery open late, Nice café to breakfast outside, …see downloadable neighborhood guide for details
Kitchen

Microwave oven, Fridge, Hotplate, Toaster, Coffee-machine
List of amenities in this specific property
Business

Free Internet access( Wifi/LAN), Copyshop within 10 minutes, Distributeur de billets/ATM, Poste/ Post office

Convenience

Épicerie / Grocery

Entertainment

Radio
Kitchen

Cafetière / Coffee machine, Cookware, Four / Oven, Four micro-ondes/ Microwave oven, Full Kitchen, Grille pain/Toaster, Plaques chauffantes / Hotplates, Réfrigérateur / Refrigerator, Stove, Utensils

Living

Draps et serviettes / Linen, Lave-linge / Washing machine, Linens, Planche à repasser/Ironing Board, Sechoir a linge / Clothes horse, non-smoking, Heating, Hair dryer, Baby cot and baby chair (option), Parking within 5 minutes (option
Find properties available for your stay dates:
- Nearby properties you might be interested in.
Downloads
Additional information you might be interested in.
Parking

We recommend you to use a guarded parking because of the high car theft risk - click here.

Transfer

For more info about transfer in Prague click here.