Search
Property detail & price proposal
Reserve
Thank you
MALA - Tiny but cosy studio, only a few minutes walk from Charles Bridge
Studio for 2 guests (max. 2) • Ujezd 5, Prague
Contact the manager
Call Vladka
US 302-261-5207
or fill our mini-form
Video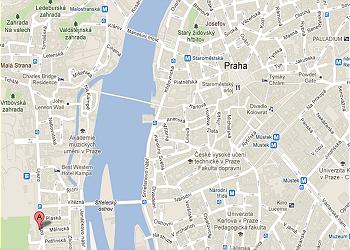 Studio, across the river from National Theatre and 10 min walk from Charles Bridge, close to the Vltava river bank. Situated in Mala Strana, near the biggest park in central Prague. Please note this apartment is more affordable than others, because it is a 4th floor without elevator, and the shower room is small.
Address

Ujezd 5,

Parking

Not included but a few minutes by walking from the property click for parking advice

Floor

4

Elevator

No
Bathroom

1

Surface

18 m2

Sleeping arrangements

1 Sleeper
recommended by
Michelin Tour Guide 2010
Michelin: Properties all in Prague 1... high quality service ... very attractive prices
Prague Guide
Prague Guide
Reviews for this property
Nice, quiet and clean

---- United States, 12. November 2013

Stayed for 4 days in September, 2013

Really great studio, in the city center, quiet, clean.
No keys, it works with codes, so you can arrive at any time!
Perfect for few days, or a week.
Just don't forget it is on the fourth floor :)

séjour en amoureux au top!

venelles France, 11. October 2013

Stayed for 7 days in October, 2013

Somptueux séjour! Superbe ville! Immeuble très bien situé!( pas besoin de transport)
Déjà hâte de retourner à Prague! et je reviendrai dans cet appartement si possible.
Description très objective, équipement au top! seul petit hic, c'est l'insonorisation de l'immeuble par rapport aux voisins et personnes passant dans l'escalier. Mais rien de trés grave.
A très bientôt "RENTEGO" :)

Rentego

Miljan S. from United States, 19. September 2013

Stayed for 7 days in September, 2013

Fantastic location, very nice and clean apartment, very simple booking. 10/10

séjour à prague

vincent c. from Marseille France, 29. August 2013

Stayed for 6 days in August, 2013

La location correspondait exactement à ce que nous en attendions donc nous en sommes satisfait.

appartement très bien situé et calme

Gerard B. from Brains France, 22. August 2013

Stayed for 7 days in August, 2013

séjour très agréable avec facilité accordée pour stocker les bagages le dernier jour. Situation idéale pour rayonner dans Prague. Dommage que la connexion Wifi soit un peu capricieuse. A recommander à tous ceux qui n'ont pas peur des 4 étages et d'une SdB réduite.

Stayin

Saint Martin Bellevue France, 04. August 2013

Stayed for 4 days in July, 2013

We are very satisfied with our stay: the flat is well located (at a wakling distance from the castle and city center), functional and fully equipped. The management is efficient and there is the possibility of leaving your suitcases in a luggage room on the day of departure (very handy). We highly recommend it.

Mala

United States, 17. July 2013

Stayed for 3 days in July, 2013

The location of the apartment was great! We loved having the little kitchen and the an was a huge plus! Our only negative comment would have been that the climb to the fourth floor was quite a hike and it would have been nice to have a little television. Plus, the internet access connection was not working the first night of our stay.

Simple et pratique

Poissy France, 01. June 2013

Stayed for 4 days in May, 2013

Sérieux
Pratique
Bien situe

A nice four-day in Prague

FRANCOISE L. from PONT L'ABBE France, 30. May 2013

Stayed for 4 days in May, 2013

It was the first time Y went on holiday and rent a flat for a short time. Y bought the guide " le guide du routard" and they recommended Rent a go. It's very easy to book a reservation on the Internet. As we arrived at night I also reserved a taxi by the agency so when we arrived in Prague the taxi driver was waiting for us at the airport. He drove us to the flat. We discovered the rental whitch was very nice. It was small but well laid out and so peaceful( the window opened onto the back of the building ). The sofabed was comfortable,the kitchen well fitted,and the bathroom very clean. Y would conclude by the situation of the vacation next to the historic centre of Prague. In conclusion he have to say we had a nice trip in Prague.

Appartement MALA par RENTEGO

MARIANNE C. from SAINT JULIEN CHAPTEUIL France, 11. May 2013

Stayed for 5 days in May, 2013

Très bien situé, en plein centre de prague, a proximité des monuments. Appartement très calme et propre.

nice

Alena B. from Czech Republic, 08. May 2013

Stayed for 6 days in April, 2013

very satisfied

Mala

Paris France, 24. March 2013

Stayed for 7 days in March, 2013

lTrès chouette petit appartement, bien équipé, propre, bien situé, à conseiller !

Greate apartment and people!

Nikita K. from Moscow Russian Federation, 12. February 2013

Stayed for 8 days in February, 2013

Nice apartment with everything u need, not expensive and 7 minutes walk from the Karlov bridge. Everything is clean and nice:))

Nice location at the heart of Prague

Lourdes M. from Czech Republic, 28. January 2013

Stayed for 10 days in January, 2013

The unit is located at the heart or Prague. Easy access to everything. Restaurants nearby, groceries and shops. Management is sensitive and very accommodating to the needs of the client. Well done. I am recommending this place to others.

Perfect (nearly)

Paris France, 23. October 2012

Stayed for 3 days in October, 2012

Problem with the water : not hot enough (impossible to wash one's hair)

Séjour Prague Appt Rentego MALA Sept 2012

arles France, 13. September 2012

Stayed for 6 days in September, 2012

Bon séjour dans l'appartement MALA / Rentego à Prague. Bon suivi de la location et contact fidèle et efficace en langue française.

Need a bed

Jean Francois V. from Montrouge France, 14. August 2012

Stayed for 4 days in July, 2012

The place is nice, clean, well located to make and organize your visits of Prague - The pitty is the sofa/bed not good at all. No way to recover properly your power/health. I got pain on my back and I never got the chance to sleep well - Please change this Sofa/Bed.

a nice place to visit Prag

Tulle France, 08. July 2012

Stayed for 7 days in June, 2012

Mala is really a nice small appartment for 2 persons who wish to visit Prag. It is very well situated, quiet and the management of the appartment is perfect. Of course, we'll recommend it: Rentego had been recommended for us by friends wo visited Prag last spring.

Comments

Washington United States, 29. May 2012

Stayed for 4 days in May, 2012

Mala property was very centrally located. The team was very professional too.
The only comment I would have is that the bathroom cistern/ bowl was very small.

Very professional

Vincent M. from Toulouse France, 02. May 2012

Stayed for 5 days in April, 2012

Nice experience. A simple and small appartment, well located in this beautiful city. The rental is very well organized.

Très bien

Sebastien W. from Vauréal France, 26. March 2012

Stayed for 3 days in March, 2012

Appartement charmant et confortable.

Un superbe séjour

Marcq France, 13. March 2012

Stayed for 4 days in February, 2012

Tout était très bien :
L'appartement correspondait parfaitement à la description internet.
Il est très facile de réserver puis, une fois le règlement effectué, de recevoir les mots de passe. Aucun passage en "Agence" n'est nécessaire, difficile de faire plus simple et plus libre comme système.
RenteGo est à recommandé à tous !

a very good time

Serezin du Rhone France, 09. February 2012

Stayed for 7 days in January, 2012

cool in the studio

Totally reliable

Paris France, 11. January 2012

Stayed for 4 days in January, 2012

Everything was exactly like announced by Rentego. Clean, with every appliance needed for a convenient stay. I particularly appreciated that Rentego allowed us to keep the appartment until 7 pm as it wasn't booked the night of our departure.

satisfaisant

raymond m. from cugnaux France, 09. January 2012

Stayed for 5 days in December, 2011

appartement très bien situé mais les aménagemnts intérieurs pourraient etre mieux entretenus (la ****** s'evacuait très mal , le lino était abimé les murs mériteraient un coup de peinture)

Good experience

Fabio S. from Torino Italy, 02. January 2012

Stayed for 4 days in December, 2011

Curious and practical

Mala un nid douillet pour amoureux

Montreal Canada, 08. December 2011

Stayed for 5 days in December, 2011

Merci a toute la team, l'appartement était très agréable et bien entretenu, proche de tout. C'est un rapport qualité/prix exeptionnel et l'organisation de rentego est vraiment bonne... et le tout en français en plus!!!

On se reverra vite car vous etes vraiment une adresse a retenir


Mala

Pincourt Canada, 12. November 2011

Stayed for 3 days in October, 2011

Great location, apartment had all the necessities, proximity of services was good (Food, transport). We received all the informations about the apartment in advance, code for the door, what bus to take to get there from the airport etc. The Praque guide provided provided contain helpful informations. Staff answered my questions by email. Excellent stay although we didn't see anyone in person.

Evit ar vakansou

---- France, 19. October 2011

Stayed for 6 days in September, 2011

Emplacement parfait pour visiter la très belle ville de Prague ! Tarifs très accessibles, réservation et utilisation super pratiques...Seul bémol (mais bien précisé avant la location) 4 étages sans ascenceur et toilettes peu confortables !!! Mais à recommander sans hésiter !!

Nice place

Sartrouville France, 11. September 2011

Stayed for 4 days in August, 2011

good place to crash on praha !

BEURIER S. from MULHOUSE France, 31. August 2011

Stayed for 3 days in August, 2011

,

Nantes France, 17. August 2011

Stayed for 3 days in August, 2011

Good stay in this property.

Cedric P. from Toulouse France, 06. August 2011

Stayed for 4 days in July, 2011

Just 2 problems: we didn't have any wifi all the stay long, but we were supposed to! And the bed wasn't very comfortable.

Response from RENTeGO

19. August 2011

Dear Cedric, we are sorry for the inconvenience. However our technical team was not informed about it , otherwise we would have fixed it immediately. We hope your stay was pleasant in all other aspects:-).

great

CREMIEU France, 28. July 2011

Stayed for 7 days in July, 2011

NANTES France, 24. July 2011

Stayed for 5 days in July, 2011

ADELINE M. from DAMMARTIN EN GOELE France, 02. July 2011

Stayed for 7 days in June, 2011

Clean and nice appartment, perfect for a couple

Frederic M. from Paris France, 06. June 2011

Stayed for 3 days in June, 2011

Mathilde M. from MASSIGNIEU DE RIVES France, 09. May 2011

Stayed for 4 days in April, 2011

Appartement parfait pour WE en amoureux: Cosy, très calme et proche du centre ville. Equipe de choc, sympa et efficace!

Fabienne F. from Cachan France, 19. April 2011

Stayed for 3 days in April, 2011

France, 08. January 2011

Stayed for 22 days in December, 2010

Extremely pleased

Robert S. from Paris France, 04. January 2011

Stayed for 9 days in December, 2010

RenteGo will be the first place we look to for accomodations when, hopefully, we return to Prague
Check in time
Check in after 14h00 (possibility to leave luggage in from 13h15)
Check out time
Check out by 11h00 (possibility to leave luggage in until 12h45)
Easy check in
Code locks or personal welcome allow you to go directly to ...
More info on check-in/out
Amenities
available in all our properties
Various

Bed linen and towels, Radio and CD player, Ironing board, Iron, Hairdryer

Environment

Internet cafe, Grocery open late, Nice café to breakfast outside, …see downloadable neighborhood guide for details
Kitchen

Microwave oven, Fridge, Hotplate, Toaster, Coffee-machine
List of amenities in this specific property
Business

Free Internet access( Wifi/LAN), Copyshop within 10 minutes, Distributeur de billets/ATM, Poste/ Post office

Convenience

Épicerie / Grocery

Culture

Museums, Théâtre /Theater

Entertainment

Satellite Television, Radio

Geographic

Near River
Family

Cinémas / Movie Theatre, Playground

Kitchen

Cafetière / Coffee machine, Toaster, Utensils, Four micro-ondes/ Microwave oven, Réfrigérateur / Refrigerator, Full Kitchen, Plaques chauffantes / Hotplates, Grille pain/Toaster

Living

Draps et serviettes / Linen, Lave-linge / Washing machine, Linens, Planche à repasser/Ironing Board, Sèche-linge / Dryer, Sechoir a linge / Clothes horse, non-smoking, Heating, Hair dryer, Baby cot and baby chair (option), Parking within 5 minutes (option, Totally keyless access
Find properties available for your stay dates:
- Nearby properties you might be interested in.
Downloads
Additional information you might be interested in.
Parking

We recommend you to use a guarded parking because of the high car theft risk - click here.

Transfer

For more info about transfer in Prague click here.