Search
Property detail & price proposal
Reserve
Thank you
LORETA - Romantic 1 BR apartment only 1min walk from Prague Castle
2 Bedrooms for 3 guests (max. 5) • Loretanska 7, Prague
Contact the manager
Call Vladka
US 302-261-5207
or fill our mini-form
Video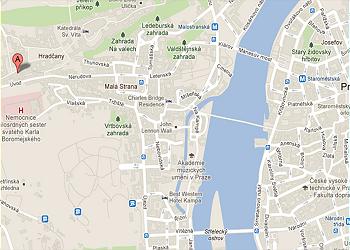 If you like romantic scenery, Loreta is the place for you. There is nothing more pleasant than a drink on the balcony after a tedious day of sightseeing with a beautiful view of Prague. The balcony is just above a nice garden, well- kept by occupants in the other apartments. You can also see a nearby park called Petrin, the largest "green" area in Prague. Since the apartment is located in a pedestrian area, one minute from the Prague Castle, the rattling of trams or the vexing traffic noises will not disturb you. Loreta is perfect for a hot summer day, thanks to the strong walls and a basement, typical for Prague's 18th century buildings. On the other hand in winter, Loreta will delight you with pleasant floor heating throughout the whole apartment. Due to the numerous restaurants and pubs nearby, you might not even notice the miniature kitchen which is unsuitable for preparing complex meals, but fully equipped for preparing breakfast or a quick snack. Loreta is ideal for 2-3 guests and the optimal price is calculated according to this. If you choose to stay here with a group of five people for example, you will save some money, but you might find the bathroom and kitchen, as well as the water heater insufficient. As all our other apartments, there is a high speed internet connection. Also the apartment is non-smoking with the option of smoking on the balconies. If you want a better idea of what the apartment looks like, scroll down to view the floor plan. Most of the houses, located in Loretanska Street, were built on a burnt-out area after a fire in 1742. The name of the apartment as well as the street it is on are named after a well-known baroque historical sight with unique chimes, donated by merchant Eberhard von Glauchau. Every hour Marian songs start to sound and on holidays religious music is performed by organ players. Loreta chapel is a copy of Santa Casa, the saint house in Italian Loreto that has been worshiped as a place of the Incarnation. Loreta and its surroundings are connected with many legends; unfortunately most of them are sad. One of the well-known ones is about a poor widow and her children. At the time of a plague all the widow's children got sick and passed away one by one. Every time she buried one of them, she took her saved up coin and had the bells rang for the poor child. Eventually she became sick herself. When she died, the glockenspiel started to play a Marian song which we can hear today.
Address

Loretanska 7,

Parking

Not included but a few minutes by walking from the property click for parking advice

Floor

0

Elevator

No
Bathroom

1

Surface

30 m2

Sleeping arrangements

1 Single bed(s), 1 Sleeper, 1 Other bed- see Floor Plan for details, 1 Double/Full Bed
recommended by
Michelin Tour Guide 2010
Michelin: Properties all in Prague 1... high quality service ... very attractive prices
Prague Guide
Prague Guide
Reviews for this property
This is Prague

Amjad M. from aqaba Jordan, 28. October 2013

Stayed for 7 days in October, 2013

If you are looking for a great enjoyable stay in prague, affordable yet in a great great location .. Loretanska 7 is the best.

Pas déçu

Saint-Brieuc France, 09. September 2013

Stayed for 4 days in September, 2013

Très bel endroit, très bel appartement. A refaire.

Great Experience

Ran V. from Tel Aviv Israel, 08. August 2013

Stayed for 10 days in July, 2013

The apartment was very nice and equipped and in a great location. The rental process itself was also very convenient. I'll definitely recommend the apartment for friends.

Parfait

CLAIRE M. from Saint\u002DMaur\u002Ddes\u002DFo France, 10. July 2013

Stayed for 4 days in June, 2013

Appartement très bien situé si vous ne venez pas pour faire la fête. Calme absolu, magnifique vue sur Prague et la colline de Petrin et tout est accessible à pied (après 3 jours de marche intensive dans Prague la colline est parfois un peu dure a remonter mais on est tellement bien dans l'appartement que ça vaut le coup et puis il y a toujours l'option tram si vous êtes vraiment épuisé!). L'organisation avec l'agence est impeccable, grand professionnalisme, elle nous fourni toutes les informations pour nous faciliter la vie et il y a tout le nécessaire dans l'appartement. Génial! Et Prague est une ville de rêve...surtout dans ces conditions!

Sojourn in historical area.

Eric M. from Bruxelles Belgium, 21. June 2013

Stayed for 14 days in June, 2013

Great organisation, beautiful apartment, tastefully decorated, very fine view, well located in an ancient and quiet area close to Prague's castle... I had sometimes the feeling to live in the past, which was ideal for me to discover Prague's history and culture.

Perfect location, tiny bathroom!

Shawna T. from Hillside United States, 27. May 2013

Stayed for 2 days in May, 2013

Male 26 and femal 31 cousins sharing an apartment was hard to plan. This place was perfectly located near St. Vitus. The shower/toilet was tiny, but the door closing off the kitchen made it work to dress in there. Doors provide little privacy and the place could use a complete scrub down, but otherwise it was wonderful. Silent neighborhood at night. If you want to party, stay on the other side of the river. Go up hill to "Cafe Gourmet" for breakfast or lunch, prices and food are very reasonable.

apartment and organisation were excellent

Corrine B. from Toulouse France, 23. May 2013

Stayed for 3 days in May, 2013

Thank you for this very well organised experience and for your recommandations, the place (LORETA)is peaceful and the view is mervellous.

Very nice apartment

France, 17. April 2013

Stayed for 31 days in March, 2013

Very nice apartment, great location. The bathroom is quite small however, just in front of the kitchen, which is quite awkward. But good stay overall.

review

Michael F. from Sion Switzerland, 20. January 2013

Stayed for 4 days in December, 2012

great, for more info, see paper review

Review 14/01/2013

Yannick W. from Shannon, Co Clare Ireland, 14. January 2013

Stayed for 9 days in January, 2013

already done before

excellent for a short break

David M. from LONDON United Kingdom, 24. December 2012

Stayed for 7 days in December, 2012

bathroom very tiny but otherwise a really excellent choice for a few days stay in Prague; quiet, warm, clean + professional service when required.

une bonne semaine à prague

Samuel S. from Curienne France, 12. November 2012

Stayed for 7 days in November, 2012

merci à l'équipe de rentego pour ce sejour, qui à été enchanteur, tant par la beautée de la ville que par les prestations proposées.
c'est en toute confiance que nous repartirons avec vous!

Wonderful !

Catherine G. from Paris France, 04. November 2012

Stayed for 4 days in October, 2012

The location was very nice, tidy and well located

my experience whit Loreta apartment

Yannick W. from Shannon, Co Clare Ireland, 18. September 2012

Stayed for 8 days in September, 2012

I m coming to this apartment twice per year since 4 years now and still very happy to go there. the management is always ready to help me and very professional.

Very Good!

Raimondo F. from ---- Italy, 14. August 2012

Stayed for 3 days in August, 2012

Very Good!

Superb location

Cambridge United Kingdom, 09. August 2012

Stayed for 6 days in August, 2012

A small flat, tiny bathrom and kithenette and very difficult to even walk around the double bed but great to have a living room to sit in together and views to die for. Space to wash and dry and even iron clothes. Fantastic to be so close to the castle, gardens and lovely buildings. Close to tram stop when you can't face the walk back up the hill.

Quiet Place with a View

Shane G. from United States, 12. July 2012

Stayed for 7 days in June, 2012

When we first arrived, we were concerned that the place was too far from town, being situated two minutes from the Castle. The distance turned out to be a blessing. Recent visitors will know that Prague is crowded with tourists. While this building is close to the Castle, making it busy by day, it is quiet at night. It's a five minute walk from a tram stop (through the castle, no less), there's a good store for stocking up the fridge three minutes' walk, and beer gardens in Letna Park or the top of Petrin hill are each a nice 25 minute walk. The bed is relatively comfortable, there were plenty of linens, useful guide materials (use the expats guide or website), and the kitchen had everything we needed. The bathroom was incredibly small and the shower curtain needed a scrub, but that was my only complaint. Bright, tidy, quiet, secure, and out of the way of the tourist hordes. Make sure you visit the Strakhov monastery (eight minute walk) and leave enough time to enjoy their delicious beer.

Rate Loreta

Bois\\x2DColombes France, 11. June 2012

Stayed for 7 days in June, 2012

Well organized. Very nice view from the appartment. One remark : the bathroom is really small.

Room with a view

Ross S. from Germany, 04. June 2012

Stayed for 2 days in May, 2012

Excellent location only 2 minutes walk from the castle with a fantastic view over Prague! Rentego were very professional and a great help all around.

Charming Apartment with great view

United States, 28. May 2012

Stayed for 3 days in May, 2012

This is a charming apartment with a great view. The staff is courteous and professional. The apartment itself is very cute and in a great location. I did find that it could use a couple of upgrades. The bathroom and kitchen are extremely small. It was not dirty but at the same time not spotless. For example, the futon mattress had a lot of stains. The floors had lent and hairs, etc. Overall, we enjoyed our stay and would definitely recommend this property to others.

Romantic and charming

Patrick A. from United States, 14. May 2012

Stayed for 3 days in May, 2012

Very pleasant and relaxing experience, nice view, quietness. One can do a lot by foot from that place to visit Prague historical main place

Loreta Apartment Prague

Canberra Australia, 07. May 2012

Stayed for 5 days in April, 2012

Excellent location on the hill very close to the castle. Quiet and easy for walking or the tram. Shops available nearby and restaurants.
RENTego were very helpful. They were personally recommended by a friend.

!

OLGA S. from MOSKVA Russian Federation, 02. May 2012

Stayed for 9 days in April, 2012

The location was excellent, apartment was nice and clean. We are very happy to choose Rentego

Everything was great!

Aurelie T. from lyon France, 10. January 2012

Stayed for 7 days in December, 2011

Very good and professional agency + very good location + nice city = very good stay!

Very nice and clean apartments

Alban L. from United States, 19. December 2011

Stayed for 7 days in November, 2011


It is such a nice experience. In the future i will recomend rentego to everyone i know and i am sure they will like it like my friends who stayed in Loreta did.

Loreta Apartment near Prague Castle

United States, 16. December 2011

Stayed for 8 days in December, 2011

Loreta Apartment was in a fantastic location and it was warm, clean and felt safe. The views from the apartment were fantastic and it was good to be so central. The only thing that might have improved the whole experience was that the apartment itself was in need of decoration and the fitments and fittings were looking a little tired. The side lamps and the crockery had chips or cracks on them and the shower sealant was a bit mouldy and needs replaced. It felt as though the whole place could do with some attention, which would make the little (and it is little) apartment really fantastic to stay in.

A

Bruno S. from BRNO Czech Republic, 01. November 2011

Stayed for 1 days in October, 2011

Pommeau de ****** cassé et lampe de chevet dans la chambre cassé également.

"Give Your Review A Title (up to 65 characters)" What's that ? and up to 2000 characters, you probably don't have much feedback! :)
Surtout que si on mets pas une lettre dans la case, il ne nous laisse pas "submit review"

++
Bruno

great stay

Mondragon France, 07. September 2011

Stayed for 4 days in August, 2011

Appartement au top!

Nathalie C. from soisy sur seine France, 29. August 2011

Stayed for 5 days in August, 2011

Appartement clair, propre et fonctionnel. Très bien pour trois personnes. La cuisine et la salle d'eau sont exigües pour 5 personnes. La situation est excellente 1 min du chateau, 15 min du centre dans un quartier très calme, très belle vue sur la campagne.
Je le recommande.

A great location with great services

Christine M. from Nantes France, 07. August 2011

Stayed for 8 days in July, 2011

I shall come back !

LONGUEUIL Canada, 06. July 2011

Stayed for 4 days in June, 2011

Anne T. from Saarebruecken Germany, 28. June 2011

Stayed for 3 days in June, 2011

Good flat

Bruno S. from VITRY SUR SEINE France, 15. June 2011

Stayed for 4 days in May, 2011

Very quiet et near of the castle.
A good localisation to visit all the city

Notre séjour s'est fort bien passé

LA TOUR DU CRIEU France, 23. May 2011

Stayed for 3 days in May, 2011

Notre séjour s'est fort bien passé. De l'appartement nous avons regretté la salle de bains miniscule avec quasiment rien pour poser ses affaires ou accrocher les serviettes.
Nous avons eu un petit problème à l'arrivée puisque le code communiqué ne nous a pas permis de déverouiller la porte et nous avons dû appeler Rentego , heureusement nous y étions suffisamment tôt pour pouvoir appeler. Ceci nous a contrarié en arrivant mais par la suite rien à dire.

J'ai bien reçu le chèque de caution, merci.


Un logement très agréable et idéalement placé pour qui veut prendre un peu de hauteur tout en restant au centre.

Paris France, 05. March 2011

Stayed for 7 days in February, 2011

code acces

Yannick W. from Shannon, Co Clare Ireland, 15. February 2011

Stayed for 9 days in January, 2011

Mon séjour fut très bien. Je déplore les dfférents problèmes que j'ai eu avec les codes d'acces à l'appartement. De plus la lumière d' exterieur à coté de la porte de fonctionne pas ce qui fait que l on ne voit pas tres bien les touches. La lumiere generale dans la cour reste seulement quelques secondes. Je conseille aussi de placer un rideau devant la petite fenetre qui est dans la cuisine et qui donne directement sur la salle de bain. quand vous sortez de la ****** vous pouvez etre vu des gens qui sont dans la cour. dommage qu il n y a pas de television dans l'appartment. le lecteur CD est cassé et la reception des stations radio est mauvaise je pense à cause de l'antenne qui est aussi est cassé. Par contre bravo pour les nouveaux meubles dans l'appartment qui sont très pratiques.

didier S. from LE PONTET France, 07. February 2011

Stayed for 4 days in February, 2011

Tout est parfait, ne changez rien! et merci pour votre disponibilité et votrre gentillesse.Cordialement

Corintho Rodrigues c. from Niteroi \\x2D Rio de Janeiro Brazil, 17. January 2011

Stayed for 3 days in December, 2010

thomas h. from nantes France, 31. December 2010

Stayed for 11 days in December, 2010
Check in time
Check in after 19h00 (possibility to leave luggage in from 17h45)
Check out time
Check out by 16h00 (possibility to leave luggage in until 17h15)
Easy check in
Code locks or personal welcome allow you to go directly to ...
More info on check-in/out
Amenities
available in all our properties
Various

Bed linen and towels, Radio and CD player, Ironing board, Iron, Hairdryer

Environment

Internet cafe, Grocery open late, Nice café to breakfast outside, …see downloadable neighborhood guide for details
Kitchen

Microwave oven, Fridge, Hotplate, Toaster, Coffee-machine
List of amenities in this specific property
Business

Free Internet access( Wifi/LAN)

Convenience

Épicerie / Grocery

Entertainment

Radio
Kitchen

Cafetière / Coffee machine, Coffee Maker, Cookware, Four micro-ondes/ Microwave oven, Full Kitchen, Grille pain/Toaster, Microwave, Oven, Plaques chauffantes / Hotplates, Réfrigérateur / Refrigerator, Refrigerator, Stove, Toaster, Utensils

Living

Draps et serviettes / Linen, Linens, Planche à repasser/Ironing Board, Sechoir a linge / Clothes horse, non-smoking, Heating, Hair dryer, Baby cot and baby chair (option), Parking within 5 minutes (option
Find properties available for your stay dates:
- Nearby properties you might be interested in.
Downloads
Additional information you might be interested in.
Parking

We recommend you to use a guarded parking because of the high car theft risk - click here.

Transfer

For more info about transfer in Prague click here.