Search
Property detail & price proposal
Reserve
Thank you
KUNDERA - 3 BR 4 minutes walk from Wenceslas Square
3 Bedrooms for 7 guests (max. 9) • Jungmannova 5, Prague
Contact the manager
Call Vladka
US 302-261-5207
or fill our mini-form
Video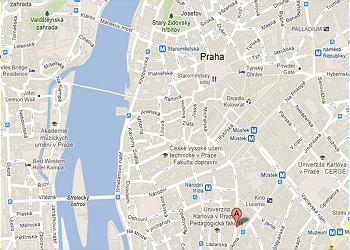 The apartment Kundera is a calm and spacious apartment in the heart of Prague! It is sunny and multipurpose to fit everyone. First of all, it is located only 4 minutes away from Wenceslas Square and you can easily set out to visit Prague's attractions and culture from there. This is ideal place for exploring the city to the fullest, without wasting time in public transport or being forced to spend the whole day walking around and returning home at night. Secondly, the Kundera apartment is modern and a pleasant place for relaxation. Therefore it is also suitable for those who like to spend their time relaxing and enjoying the apartment. With a very comfortable living room you can put your feet up and feel at ease after a long day of exploring Prague. The apartment has a well equipped kitchen with everything you need to prepare basic meals (oven, microwave, and toaster). When not in the mood for cooking, you can always visit one of the many restaurants nearby. The apartment is large enough for 7-9 people. Thanks to a pull-out sofa the apartment offers enough comfort for two families or a large group of friends. Last of all, there is high-speed internet connection for those who want to work and stay in touch with friends. The apartment is non-smoking with the option of smoking outside. If you want a better idea of what the apartment looks like, scroll down to view the floor plan. Jungmannova Street, Prague 1 is located in a quiet part of Nove Mesto built by Charles IV. in 1378. In the past, it belonged to the main arterial road connecting Karlovo Square and the Old Town. Originally it was called Zvonarska "Bell Street" after the bell makers who were settled there. These bell factories disappeared in the late 19th century. The current street name has been employed since 1878, when the statue of Josef Jungmann, a prominent Czech revivalists, linguist, poet and translator, was erected at a nearby square.The famous Baroque sculptor Matthias Bernard Braun used to live at the corner of Jungmannova and Vodickova Street. He authored several statues on the Charles Bridge. The apartment is located between two main Prague squares – Charles and Wenceslav Square. Charles Square is actually one of the largest squares in Europe. The apartment is also very close to public transport: a minute from the tram stop Vodickova and a few minutes from the metro.
Address

Jungmannova 5,

Parking

Not included but a few minutes by walking from the property click for parking advice

Floor

5

Elevator

Yes
Bathroom

1

Surface

110 m2

Sleeping arrangements

4 Single bed(s), 1 Sleeper, 1 Other bed- see Floor Plan for details, 1 Double/Full Bed
recommended by
Michelin Tour Guide 2010
Michelin: Properties all in Prague 1... high quality service ... very attractive prices
Prague Guide
Prague Guide
Reviews for this property
La location, le bon plan !

MYRIAM A. from St Joseph de Riviere France, 17. October 2013

Stayed for 3 days in September, 2013

Escellente prestation,bon rapport qualité prix.
A 5minutes du centre historique,nous avons tout fait à pied mais le métro et tramway sont à moins de 500m. Expérience à renouveler

Kundera property

---- Canada, 28. September 2013

Stayed for 3 days in September, 2013

The apartment is massive, clean and has all the ammenities. My only complaint was the general property condition; the lights in the hallways (outside the apartment) didn't work, making it feel unsafe and unkept when we first arrived.

Un superbe appartement au centre de Prague, très facile d'accès!

Dominique M. from Uccle Belgium, 12. September 2013

Stayed for 3 days in August, 2013

Tout a roulé! arrivée à Prague, l'appartement était propre et libre à notre arrivée! nous avons pu déposé nos bagage et partir à la visite de cette belle ville!

Very satisfied !

VALLAURIS France, 12. September 2013

Stayed for 5 days in August, 2013

We enjoyed Prague and this apartment a lot! Everything suited to our expectations. Great trip!

feed back

Jean-Pierre R. from United States, 06. September 2013

Stayed for 4 days in August, 2013

Séjour très agréable, logement bien situé permettant de visiter l'essentiel à pied.

Great value for groups

Travis D. from Amsterdam Netherlands, 26. July 2013

Stayed for 4 days in July, 2013

I'd happily stay there again when in Prague with a group. Extremely spacious, many amenities, and the renter was consistently responsive, responding quickly to any and all requests.

vacances en famille

marion H. from Brignoles France, 12. July 2013

Stayed for 6 days in July, 2013

super appartement .

Kunderas

Scott L. from Paignton United Kingdom, 26. June 2013

Stayed for 3 days in June, 2013

The apartment was perfect for our stay. Great location and well presented.
I would definately recommend you to friends and use your services again.
Thank you

Family apartment in Prague

booking.com P. from Sheffield United Kingdom, 18. April 2013

Stayed for 5 days in March, 2013

Very large light and airy apartment clean with good kitchen and bathroom,7adults+baby were accommodated fine, two large triple bedrooms and a large living area with sofa bed all with large windows/doors onto balconies, At first sight from outside it is not the poshest looking building, and a little drab in the entrance with small lift up to 5th floor, these are the only negatives which don't really matter,also balcony a bit scary looking down to street(no great views as such). The location is good only 5 or 6 mins from Wenceleslass square and about 12-15 to old town square, the street is quiet with a nice patisserie close by "colore" cafe just along the road and a couple of convenience stores, The busy shopping areas at the end of the street where there are obviously lots of nice places to stop and eat/drink & watch the world go by and go shopping, especially in old town area.

Just Great!

Lyon France, 26. February 2013

Stayed for 7 days in August, 2012

Bien sous tous rapports, rien à redire.
Apres nous étions six jeune sans un niveau d'éxigance trop élevé.

Saint Nicolas 2012 à Prague

vanessa v. from beziers France, 20. December 2012

Stayed for 4 days in December, 2012

le séjour a été fantastique, l'appartement tout d'abord était conforme à la description , il était très bien situé, très propre, bien chauffé , fonctionnel : parfait
la ville est magnifique et en cette période de l'année l'atmosphère est magique, on retombe en enfance !!!
il a fait un peu froid , nous avons même eu la neige mais ce n'était que mieux et encore plus typique !
l'échange avec le personnel de rentego a été également très agréable, ceux sont des personnes sérieuses .

Parfait !

ghislaine d. from verrieres France, 08. December 2012

Stayed for 4 days in November, 2012

Nous avons passé un très agréable séjour. Appartement dans le centre, très spacieux (nous étions 6). Rentego est très professionnel, organisation parfaite , service de qualité. Merci et à bientôt avec Rentego !

KUNDERA APPARTEMENT

valerie d. from PIN BALMA France, 21. November 2012

Stayed for 5 days in October, 2012

trés bien situé. conforme au film. dommage qu'il n y ait qu'une salle de bain quand nous sommes 6 personnes. appartement loué pour 3 chambres alors qu'il a 2 chambres et un séjour que l'on peut transformer en chambre ( mais c'est un lit sur un canapé clic clac) a part ça très bon situation, appartement spacieux, clair, légèrement bruyant le matin avec le camion poubelle qui passe.

Review of 5 days in Prague in KENDURA Appartement

Arnauld D. from United States, 20. November 2012

Stayed for 4 days in November, 2012

hi,

We really enjoyed our trip in Pragua with friends. Kendura flat is well located, near the city, with a tram station at 50 metres.
People of rentego team are professional and friendly. I recommend their services:-)


a good stay

Maryline B. from Equeurdreville France, 07. November 2012

Stayed for 4 days in October, 2012

The appartment is OK but with 11 people, it would need another bathroom. A miror in each romm could be a good idea.We had a problem with the toilets door (broken). The emplacement was wonderfull and people very very helpfull and nice

Response from RENTeGO

04. December 2012

Hello Maryline, thanks for taking time on writing review on the apartment. We take good note about your comment regarding the mirrors:-). However, let me point out that you initially mentioned (while confirming reservation on September 22nd) you would be 7 guests only. The apartment is clearly neither comfortable enough nor recommended for 11 persons (we recommend it for 7 persons, with maximum occupancy 9). Vladka, Rentego team

Really great flat for a really great city

Guillaume G. from LA ROCHE SUR YON France, 16. August 2012

Stayed for 3 days in August, 2012

Hay,

The flat Kundera is very well located, in the downtown of Praha. It is very spacious, clean and the best solution for a group of friends or a family.

The team of Rentego is very professional, everything is well organised ; I really recommend this solution for a stay in Praha.

Have a good trip,
Bye,
Guillaume

Makes you wanna stay more.

Vincent R. from Dijon France, 23. May 2012

Stayed for 3 days in May, 2012

We spent 3 wonderful days in this very wide and fully furnished apartement located right in the middle of the city center. Rentego staff was always available to answer any question we might have about Prag. Really nice and helpful staff.

appartement Kundera Prague

AMBERT France, 24. April 2012

Stayed for 3 days in April, 2012

Appartement conforme au descriptif, bien situé, proche métro et bus, spacieux, lumineux.
Idéal pour découvrir Prague, ville magnifique

Simply excellent!

Paris France, 21. February 2012

Stayed for 2 days in February, 2012

The location is perfect, the apartment very clean and well equipped and the company is very professional and dedicated! I strongly recommend rentego!

Stay in Prague

PARIS France, 01. January 2012

Stayed for 4 days in December, 2011

A lot more cosy than a stay at the hotel

Sympa, spacieux, bien situé, bref proche du top...

genevieve m. from marseille France, 24. October 2011

Stayed for 3 days in October, 2011

Quartier agréable et très proche des principaus sites touristiques, en particulier de la vieille ville. Toutes commodités à proximité (commerces, restaus, etc). Proximité également du métro et des trams. De plus agence très disponible et réactive en cas de difficulté. Un petit point à améliorer: le stockage des bagages à l'arrivée et au départ si l'appartement est occupé: la consigne de la gare c'est pas top! Mais au final appartement calme, spacieux avec Wifi, pas loin d'être parfait. Nous conseillons vivement.

Great concept

PARIS France, 20. September 2011

Stayed for 2 days in September, 2011

I am completely satisfied with the full chain that enabled me to rent this flat, from the fast replies and the sending of the keys with helpfull piece of information to organize the stay to the great location of the flat. The flat is bigger than it seems
on the video and perfect for group of people. I highly recommand this flat and rentego in general and will definitely use this service next time I go to Prague.

Great location, appartment bigger then on the pictures, clean ,qu

Sandrine P. from MENTON France, 14. September 2011

Stayed for 3 days in August, 2011

near wenceslas

---- France, 23. August 2011

Stayed for 4 days in August, 2011

Perfection!

Emily G. from Montevallo United States, 29. June 2011

Stayed for 13 days in June, 2011

This was a very easy and pleasant process to book (we are a University group working through the school purchasing process and the RENTeGO team was more than helpful in making payment arrangements) and a great location for our stay. It was a perfect solution for a group of six people and there were amenities and necessities nearby- close to three major transit stations and shopping.

jonathan i. from metz France, 18. May 2011

Stayed for 2 days in May, 2011

Pierre D. from Poleymieux au mont d\\x27or France, 05. May 2011

Stayed for 4 days in April, 2011

Très bel appartement, très bien situé !

Sylvie R. from LE MANS France, 30. April 2011

Stayed for 3 days in April, 2011

Philippe R. from Paris France, 08. March 2011

Stayed for 3 days in March, 2011

dominique B. from Paris France, 01. January 2011

Stayed for 5 days in December, 2010
Check in time
Check in after 16h00 (possibility to leave luggage in from 11h15)
Check out time
Check out by 11h00 (possibility to leave luggage in until 10h45)
Easy check in
Code locks or personal welcome allow you to go directly to ...
More info on check-in/out
Amenities
available in all our properties
Various

Bed linen and towels, Radio and CD player, Ironing board, Iron, Hairdryer

Environment

Internet cafe, Grocery open late, Nice café to breakfast outside, …see downloadable neighborhood guide for details
Kitchen

Microwave oven, Fridge, Hotplate, Toaster, Coffee-machine
List of amenities in this specific property
Business

Free Internet access( Wifi/LAN), Distributeur de billets/ATM

Convenience

Area Fitness Center, Épicerie / Grocery, Shopping

Culture

Museums, Théâtre /Theater

Entertainment

Satellite Television, Radio, TV
Family

Cinemas / Movie Theatre

Kitchen

Cafetière / Coffee machine, Toaster, Four / Oven, Utensils, Stove, Four micro-ondes/ Microwave oven, Cookware, Réfrigérateur / Refrigerator, Oven, Full Kitchen, Coffee Maker, Plaques chauffantes / Hotplates, Grille pain/Toaster, Dishwasher, Refrigerator, Microwave

Living

Parking within 5 minutes (option, Linens, Lave-linge / Washing machine, Heating, Draps et serviettes / Linen, non-smoking, Sechoir a linge / Clothes horse, Baby cot and baby chair (option), Planche à repasser/Ironing Board, Lave-linge / Washer, Hair dryer
Find properties available for your stay dates:
- Nearby properties you might be interested in.
Downloads
Additional information you might be interested in.
Parking

We recommend you to use a guarded parking because of the high car theft risk - click here.

Transfer

For more info about transfer in Prague click here.