Search
Property detail & price proposal
Reserve
Thank you
KAPROVA - Large 1BR around the corner from Old Town Square
2 Bedrooms for 4 guests (max. 5) • Kaprova 14, Prague
Contact the manager
Call Vladka
US 302-261-5207
or fill our mini-form
Video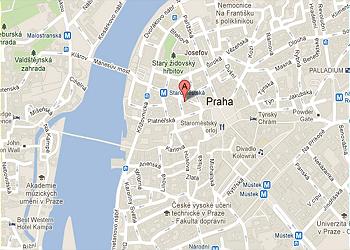 Kaprova is a light and sunny apartment well-situated in the very center of Prague. Its proximity and pleasant surroundings makes Kaprova one of the most popular apartments. It is walking distance from all the important places which are linked to both culture and entertainment, including the Old Town Square and the amazing concert hall called Rudolfinum. Because of its great location Kaprova makes it very easy to take a few breaks during the day, from all the site-seeing, as well as quick stops at delicious restaurants and the many bars that the Old Town offers. For those who prefer to stay in, the apartment offers a well-equipped kitchen for preparing breakfast or other basic meals; this includes a coffee maker, microwave, toaster etc. The apartment has one bedroom with a pull-out sofa in the living room, ideal for 5 guests. Kaprova is a flawless choice for groups, since it is right next to another of our apartments 'Rudolfinum' with a maximum of 3 guests. For a better idea of what the apartment looks like scroll down for a view of the floor plan. As all our other apartments, Kaprova also has a high-speed internet connection and is non- smoking, but there is the option of smoking on the balcony. Kaprova Street, originally named Svatovalentinská Street, is one of the oldest streets in Prague and used to be connected to the Old Town Square. The street acquired its present name from the mayor of the Old Town, Pavel Kapr from Kaprštejna, in the second half of the 16th century. The Kaprova apartment is only a few steps away from one of Prague's most famous attractions, The Astronomical Clock, located in the Old Town Square. This unique astronomical clock was built in 1410 by a watchmaker called Mikoláš of Kadan and an astronomer called Jan Ondreju. In the late 15th century the clock was perfected by Mistr Hanus z Ruze. At that time, the Prague councilors were very proud of their original landmark and feared that Mistr Hanus would build the same clock in a different city, therefore they ordered Hanus to be blinded. When Hanus learned who did this to him, he had his assistant bring him to the City Hall, where he, pulled the lever and damaged the machine forever. Allegedly it took ages before they found someone who could repair it. Meanwhile the silence of the clock reminded the councilors of their horrible deed. An interesting fact about the clock is that the only part which has nothing to do with time are the apostles, they are there for religious reasons.
Address

Kaprova 14,

Parking

Not included but a few minutes by walking from the property click for parking advice

Floor

4

Elevator

Yes
Bathroom

1

Surface

57 m2

Sleeping arrangements

1 Sleeper, 1 Other bed- see Floor Plan for details, 1 Double/Full Bed
recommended by
Michelin Tour Guide 2010
Michelin: Properties all in Prague 1... high quality service ... very attractive prices
Prague Guide
Prague Guide
Reviews for this property
A recommander

United States, 03. December 2013

Stayed for 2 days in November, 2013

Appartement idéalement situé dans le centre historique de Prague. Très calme et bonnes prestations.Y avons séjourné 3 jours fin novembre,bon rapport qualité/prix. Réservation très facile grâce à l'accueil et la réactivité de l'agence. A choisir sans hésiter.

PRAHA

Frederic L. from wimereux France, 14. November 2013

Stayed for 4 days in November, 2013

Nice to feel like Home !

a ne pas manquer

Lacour M. from Lagny sur Marne France, 07. October 2013

Stayed for 4 days in October, 2013

Nous avons été très satisfait de cette location , situation géographique exceptionnelle, confort satisfaisant. Lors d'u prochain voyage, nous essaierons de retrouver cet organisme.
Tout pour l'accueil, le service chauffeur à l'aéroport impeccable.
Que du positif
M. Hamel-Lacour

amping in Prague

Bob C. from Unionville Canada, 29. September 2013

Stayed for 10 days in September, 2013

A serviceable apartment in a great location. Appliances were old and dated and the furniture tired.Flashlight had dead batteries and stove lighter did not work.Beds need to be replaced. Sheets threadbare. I don't usually stay in places like this hence the camping observation

Response from RENTeGO

01. November 2013

Dear Bob, we are sorry for the impression you got from Kaprova apartment, which is one of our best sellers. We agree it´s not a luxurious place, but RENTEGO does not sell luxury:-) (we offer a 3 star standard in the best location of a European capital). However we do take all your points in consideration and will try to fix and improve all we can inside the apartment. I find a bit unfair, though, your low "Service from rental manager" evaluation. As far as I can check and remember, our team always answered fully and promptly all your questions regarding the reservation, restaurants, laundromats etc.. and as usual tried to provide the best client service skills :-).

Kaprova

Regis C. from Nice France, 20. August 2013

Stayed for 5 days in August, 2013

only one downside, the wifi did not work. Otherwise everything was perfect. The apartment is ideally placed to visit Prague and is very quiet. I suggest you get transfer from airport (50 euros), less expensive than taking a taxi.

visit in prague in june

Jerusalem Israel, 15. July 2013

Stayed for 8 days in June, 2013

The location af the appartment is great. The management company was professional.
The kitchen was alittle bit too small, but OK.
I recommend the appartment.

The best location to visit Prague

PHILIPPE D. from Montlucon France, 17. May 2013

Stayed for 3 days in April, 2013

Kaprova is a perfect central location to visit old city, Charles bridge, Mala Strana ...The appartement was very quiet to rest after a full day visit (back side of the building, no noise). All the service from Rentego is perfect (booking, information).

Kaprova in Prague : a good adress !

jean\u002Dmichel F. from COGNAC France, 15. May 2013

Stayed for 4 days in May, 2013

Very good organisation ! All was simple and efficient. No stress with the reservation, check in/out, a lot of informations about town, transports, etc ... We fully enjoyed our stay in Prague ! (maybe except the rain ...)

Second Stay Prague

Kevin C. from United States, 31. March 2013

Stayed for 1 days in March, 2013

Great Location. Small grocery was on the corner nearby. Basic items. Loved our visit and stay. Everything was perfect.

Great stay

Amritta R. from La Roche sur yon France, 08. March 2013

Stayed for 4 days in March, 2013

Absolutely great location, couldn't be better! In the middle of everything and everywhere, really no need to take the tram or metro to visit main sites. Quite spacious. No noisy neighbors since most of the other tenants were offices (lawyers etc- so no one during the evening). Ideal for us, a couple with a 3 year old child.

Un appartement parfait pour visiter Prague

virginie b. from asnieres sur seine France, 27. February 2013

Stayed for 4 days in February, 2013

Bon emplacement pour visiter et sortir le soir. On a tout fait à pied
Appartement spacieux et propre.
Check-in et chek-out très bien, on a même laisser nos bagages après le check-out sans soucis.
Je le recommanderais à mes amis pour visiter Prague.

Everything very good

Dmitry P. from United States, 22. January 2013

Stayed for 8 days in December, 2012

Everything very good

enjoy your stay in Prague

GAUTHIER J. from ARNAGE France, 04. December 2012

Stayed for 3 days in November, 2012

bonne organisation, appartement très propre et bien situé dans le centre de Prague

Kaprova 14

Lysiane M. from Montreuil sur mer France, 14. November 2012

Stayed for 5 days in November, 2012

En français, cela aurait été mieux. J'ai déjà laissé mes commentaires dans l'appartement...

Only for the best

Francoise L. from United States, 03. November 2012

Stayed for 4 days in October, 2012

A wonderfully located flat within walking distance of every site of interest. Really roomy and pleasant. Rentego proved really diligent and professional and provided all the information needed in due time. We also used their airport pickup which added even more comfort to this stay.And Prague has a lot to offer day after day...

krapova ne pas louer

michel t. from Fontaine La Mallet France, 23. September 2012

Stayed for 3 days in September, 2012

pouvez-vous me l'envoyer en français mais sinon l'appartement était propre et bien situé mais les travaux de rénovation de l'immeuble à 15 mètres face aux fenêtres, nous a découragé au bout de deux nuits réveillées à 6h45 par des marteaux piqueur ou autres

Response from RENTeGO

26. September 2012

Bonjour, comme nous vous l'avons expliqué par mail, vous auriez du nous contacter! Bien entendu nous n'étions ni au courant ni responsables des travaux hors de l'immeuble. Quand cela arrive, il suffit d'un coup de fil, en francais, et dans 99% des cas nous surclassons nos clients dans un appartement libre ailleurs. Alors franchement, c'est frustrant de voir que vous n'avez meme pas appelé, ce qui aurait tout résolu... Eric

Kaprova Apartment

United States, 19. September 2012

Stayed for 1 days in September, 2012

Excellent location seconds away from Old Town Square. Rentego were very helpful & efficient, attending to our numerous enquiries with great patience. We also used their airport pickup which was equally prompt & helpful. Would not hesitate to go with them again if I ever make it back to Prague.

Très bien situé - Very well located

Pechabou France, 07. August 2012

Stayed for 5 days in July, 2012

Comfortable et très bien situé

Great location and customer-friendly staff!

Guy L. from Coral Springs United States, 30. June 2012

Stayed for 3 days in June, 2012

Communication with Rentego was great, the apartment was in a fantastic location allowing us to walk everywhere, and the price was right!

Great location, generally great apartment

Alisa B. from Alexandria United States, 29. June 2012

Stayed for 7 days in June, 2012

The location could not have been better--you rolled out of the apartment and into Old Town Square. Although there were a couple of technical snags, the management dealt with them efficiently. They were very flexible and responsive to our needs.

Amazing!

Catherine S. from TOURLAVILLE France, 13. June 2012

Stayed for 4 days in June, 2012

A spacious flat close to everything with a very good management of services.


Very Happy

Charles M. from Anthon France, 18. May 2012

Stayed for 5 days in April, 2012

Very easy to book via Internet. No surprise with Rentego. Appartment very well located near with all Pragues spots.

An excellent stay in family !

acigne France, 24. April 2012

Stayed for 5 days in April, 2012

We spent an excellent stay in this beautiful apartment, spacious, clean, peace and ideally situated in Prague. 4 floors are high, but all the conveniences are near. Thank you RENTeGO and his Team.

A break

DUNkERQUE France, 14. February 2012

Stayed for 5 days in January, 2012

Nous sommes partis a Pragues avec 4 étudiants pour pouvoir visiter cette très belle ville et y decouvrir la vie nocturne.
La situation de l'appartement nous a permis de tout faire à pieds ce qui est pratique la nuit quand il n'y a plus de metro/tram/bus.

Excellent séjour

hugo v. from paris France, 29. January 2012

Stayed for 5 days in January, 2012

Appartement spacieux, propre et bien situé. Les clés ont été envoyées à l'avance, l'accès à été aménagé en fonction de l'horaire de nos avions. Très pros, à conseiller sans réserve.

Week-end à Prague en décembre

Bruno M. from NANTERRE France, 30. December 2011

Stayed for 3 days in December, 2011

L'emplacement de l'appartement est vraiment central et idéal pour découvrir Prague à pied.
Il faisait beau mais très froid et l'appartement était bien chauffé.
Bon équipement. Nous recommandons cette location.
Nota : tout a bien fonctionné : la clé extérieure, le code et l'ascenseur (attention à la cellule photoélectrique).

Bonne adresse

ASNIERES SUR SEINE France, 28. October 2011

Stayed for 4 days in October, 2011

Appartement calme, propre et bien situé, bien agencé. Equipement correct et ameublement de bonne qualité (bonne literie). Agence réactive. Défaut : mieux vaut ne pas prendre l'ascenseur (tombé en panne alors que nous étions dedans...)
Globalement on recommande (bon rapport qualité/prix).


satisfaction

jean pierre g. from bruges France, 14. September 2011

Stayed for 3 days in August, 2011

perfect sejour

vandoeuvre les nancy France, 04. September 2011

Stayed for 5 days in August, 2011

our stay was very nice and we really appreciated rentego. Thank you

Great service and good location in Prague

Wing Hang H. from Montreal Canada, 29. June 2011

Stayed for 8 days in June, 2011

paris France, 15. June 2011

Stayed for 3 days in June, 2011

LILLE France, 07. June 2011

Stayed for 4 days in May, 2011

Thanks to RenteDO

VILLARD\\x2DBONNOT France, 16. May 2011

Stayed for 7 days in April, 2011

As already mentionned in the local questionnary, we enjoy our stay thank to your professionnalism, and will recommend you to relations (already done in fact!) Thank again.

Very nice apartment, very well located just at the center of (one of) the most beautiful town in the universe.

MOUANS-SARTOUX France, 24. April 2011

Stayed for 5 days in April, 2011

Excellent.


I recommend your company to all your friends priposeschenii Prague. I regret that I can not use your service in other countries and cities of Europe. Many thanks and a bow for the quality of service!

svetlana b. from Balashiha Russia, 12. April 2011

Stayed for 2 days in April, 2011

Excellent location, some ugly furnitures to renew.

Gerard J. from SOFIA Bulgaria, 05. April 2011

Stayed for 3 days in March, 2011

Cleaning, beds, bathroom and kitchen are OK. Suggestions :
Bookshelves, chairs and 1 pouffe have to be changed or removed.
Repair the bathroom door.

Response from RENTeGO

19. August 2011

Dear Gerard, thank you for your suggestions. At the moment we are working on some home-feeling refurnishings around all our apartments and we hope these will contribute to better comfort of our clients. Bathroom door has been repaired, thanks:-). New note in October 2011: as you can see, we completely renovated the apartment, changing all furniture. ;-)

Adeline B. from Clermont\\x2DFerrand France, 21. March 2011

Stayed for 4 days in March, 2011

Perfect

Nicolas D. from Bordeaux France, 11. March 2011

Stayed for 3 days in March, 2011

Just problem during the first morning with one people who try to enter inside appartment...

Micheline R. from Canton de Hatley Canada, 31. December 2010

Stayed for 10 days in December, 2010
Check in time
Check in after 19h00 (possibility to leave luggage in from 17h45)
Check out time
Check out by 16h00 (possibility to leave luggage in until 17h15)
Easy check in
Code locks or personal welcome allow you to go directly to ...
More info on check-in/out
Amenities
available in all our properties
Various

Bed linen and towels, Radio and CD player, Ironing board, Iron, Hairdryer

Environment

Internet cafe, Grocery open late, Nice café to breakfast outside, …see downloadable neighborhood guide for details
Kitchen

Microwave oven, Fridge, Hotplate, Toaster, Coffee-machine
List of amenities in this specific property
Business

Free Internet access( Wifi/LAN), Copyshop within 10 minutes, Distributeur de billets/ATM

Convenience

Épicerie / Grocery

Culture

Théâtre /Theater

Entertainment

Radio

Geographic

Near River
Family

Playground

Kitchen

Cafetière / Coffee machine, Toaster, Four / Oven, Utensils, Stove, Four micro-ondes/ Microwave oven, Cookware, Réfrigérateur / Refrigerator, Oven, Full Kitchen, Coffee Maker, Plaques chauffantes / Hotplates, Grille pain/Toaster, Refrigerator, Microwave

Living

Draps et serviettes / Linen, Lave-linge / Washing machine, Linens, Planche à repasser/Ironing Board, Sechoir a linge / Clothes horse, non-smoking, Heating, Hair dryer, Baby cot and baby chair (option), Parking within 5 minutes (option
Find properties available for your stay dates:
- Nearby properties you might be interested in.
Downloads
Additional information you might be interested in.
Parking

We recommend you to use a guarded parking because of the high car theft risk - click here.

Transfer

For more info about transfer in Prague click here.